China and New Zealand will sign a groundbreaking free trade agreement (FTA) in Beijing today, marking the first such deal between the biggest developing country and a developed economy.
New Zealand Prime Minister Helen Clark, who arrived in Beijing Sunday afternoon, said the FTA will give her country's exporters increased access to the world's fastest-growing major economy.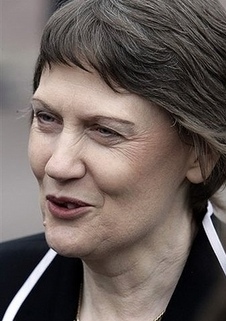 New Zealand Prime Minister Helen Clark, seen here on April 2, 2008, arrived in Beijing Sunday on her three-day visit to China. [Agencies]
"China is already our third-largest trading partner and a fast-growing export market for us," Clark said in a statement.
Clark will attend the signing ceremony during a three-day visit to China at the head of a 150-member trade delegation.
Premier Wen Jiabao is also scheduled to witness the signing of the trade deal, to be inked by Commerce Minister Chen Deming and his New Zealand counterpart Phil Goff at the Great Hall of the People.
Goff said New Zealand exports to China are projected to grow between NZ$225 million ($177.6 million) and NZ$350 million a year more than they would have done without the FTA, which will reduce tariff payments by about NZ$115 million.
Currently, major New Zealand exporters face tariff barriers in China of between 10 percent and 20 percent, he said.
"Being the first developed country to sign a comprehensive FTA with China is an enormous achievement for New Zealand," Goff said in a statement before leaving for Beijing.
"By reducing barriers to trade in goods, services and investment in China, the FTA will give New Zealand businesses a distinct advantage over competitors into that market," he said.
Goff said given that New Zealand is ranked 50th in size for Chinese exports, not to have achieved an early agreement with China could well have resulted in New Zealand being much further down the list for negotiations, and New Zealand exporters being in a position of disadvantage against competitors.
China and New Zealand began 15 rounds of detailed negotiations for the agreement in July 2004.
Two-way trade between New Zealand and China totaled $5.9 billion in 2007, up 10 percent on the previous year.
The agreement covers not just merchandise trade but also services. China sends more students to study in New Zealand than any other country and is its fourth-largest source of tourists.
China has so far signed six FTAs with countries and regions including Chile and Pakistan; and is at talks with a host of nations including Peru, Iceland and Australia.