SOCHI, Russia -- Russia's outgoing President Vladimir Putin and his United States counterpart George W. Bush failed to reach an agreement here Sunday on a U.S.-proposed missile defense plan in Central Europe.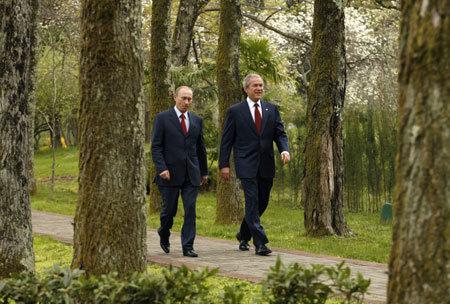 US President George W. Bush walks the grounds of the Presidential summer retreat with Russian President Vladimir Putin in Sochi, Russia April 6, 2008. [Agencies]
The two heads of states, however, agreed to institute a framework guideline for bilateral ties.
Bush promised to share technology and information to improve transparency of the missile shield that consists of 10 interceptor missiles in Poland and a radar station in the Czech Republic.
During the talks held in the Black Sea resort of Sochi, Russia "appreciates the confidence-building measures" proposed by Washington on the plans, Bush told a press conference after their last meeting between Putin and Bush in the capacity of presidents.
Putin, however, urged Washington to do more and focused on "how those confidence-building and transparency measures will be implemented," noting he was glad that Russia's concerns were "heard" by the United States in the talks.
They began their meeting with a warm handshake and smiles at Putin's heavily wooded retreat on the Black Sea. Putin took Bush to the second floor of a guesthouse to show off a tabletop display of the 2014 Winter Olympics that will be held here. "This is your yacht," he joked to Bush, pointing at a 3-inch white ship on a blue patch representing the water. Bush chuckled.
Later, the two leaders joined each other on stage during entertainment at dinner and took part in a traditional folk dance featuring a Cossack chorus.
In a speech in Croatia before arriving, Bush raised a sensitive point by praising the spread of Western-style democracy across Eastern Europe to Russia's borders. It is matter of considerable concern to the Kremlin as it watches the rapidly growing NATO military alliance push against its door.
In the twilight of their presidencies, Bush and Putin met in hopes of reversing a yearslong slide in relations and leaving their successors a broad strategy for more cooperation and less confrontation. The list of grievances between the two sides is formidable. Bush's national security adviser, Stephen Hadley, had raised hopes Monday of a missile defense deal, saying Sochi presented an opportunity to reach an agreement. But the White House dropped that line Saturday as Bush flew to Russia.
Bush and Putin chatted over a dinner of red caviar and veal loin. Bush and his wife, Laura, sat next to each other, flanked by Putin and Dmitry Medvedev, who takes over on May 7 as president of Russia.
Bush and Putin put off business talks until Sunday when they are scheduled to meet for an hour and announce the results of their discussions at a climactic news conference promising a preview of the future of US-Russia relations. Bush and Medvedev also are to meet.