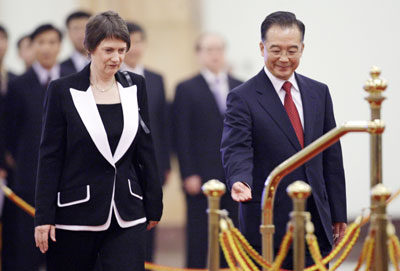 China's Premier Wen Jiabao shows the way to New Zealand's Prime Minister Helen Clark (L) during a welcome ceremony at the Great Hall of the People in Beijing April 7, 2008. China and New Zealand signed a free-trade agreement (FTA) in Beijing on Monday, marking the first full trade treaty Beijing has concluded with a developed economy. [Agencies]
China and New Zealand signed a sweeping free trade agreement Monday, the rising economic giant's first such pact with a developed country.


Related readings:


Trade and investment boom

China hopes to establish free trade zone with ROK


Switzerland and China eye possible free trade deal


New Zealand willing to promote free trade agreement with China


Peru, China to view viability of free trade deal


China and ASEAN near free-trade zone deal


China, Iceland to launch free trade talks early next year


China mulls free trade area talks with India


Japan proposes free trade zone with China


Free trade goal by 2010 reaffirmed
The deal, signed by Commerce Minister Chen Deming and his New Zealand counterpart Phil Goff at Beijing's Great Hall of the People, will give New Zealand improved access to one of the world's fastest-growing economies.
It was signed in front of Premier Wen Jiabao and Prime Minister Helen Clark.
"This is an historic day for China-New Zealand relations," said Wen in remarks ahead of the signing. "The agreement not only means we met goals we set two years ago for our negotiations, but it also makes New Zealand the first developed country to reach a free trade agreement with China."
Wen said he believes the deal will bring "our friendly relationship even closer and deliver tangible benefits to both our countries."
Clark called the pact between the country with the largest population in the world, with 1.3 billion people, and a country with just 4.1 million people "a very significant achievement for New Zealand."
"It opens up new opportunities for businesses looking to engage with, or grow their existing links with, China," she said in a statement.
The deal came after 15 rounds of negotiations over three years, Clark said. China and New Zealand formally launched the free trade negotiations in December 2004.
The FTA agreement with China is the largest for New Zealand since the Closer Economic Agreement with Australia was signed in 1983.
China is New Zealand's third largest trading partner and fifth most profitable export market, according to the New Zealand Trade Minister Phil Goff.
Two-way trade between China and New Zealand currently is worth more than US$6.1 billion (euro3.9 billion) a year, with Chinese exports making up about 75 percent, according to Statistics New Zealand.

When the deal goes into effect October 1, New Zealand exports to China that now face tariffs of 5 percent or less will be cut to zero.

There will be a staggered timeframe for cuts on New Zealand exports that face larger tariffs, with 31 percent of New Zealand's exports to China tariff free by 2013.

Tariffs on dairy products, a primary New Zealand export, will be phased out over a longer time frame, taking until 2019 when almost all of the country's current exports to China will be tariff free.

"The FTA provides for elimination over time of tariffs on 96 percent of New Zealand's current exports to China," a New Zealand government statement said.

Beyond trade in goods, the agreement covers the services sector, from insurance and banking to education and labor supply.

The agreement also calls for up to 1,800 Chinese to enter New Zealand each year to work in areas such as traditional Chinese medicine, language teaching and food service.

New Zealand said it hopes the agreement will make it a long-term trade partner with China.

"The upfront commitments on goods, services and investment and the mechanisms which provide for further development of the agreement over time should help keep New Zealand at the fore front of the evolution of trade and investment relationships with China," the government statement said.

The pact still has to be formally ratified by New Zealand's Parliament.