Born in Nanjing in 1937, Shao Tzuping and his family moved out of Nanjing before the then national capital fell to the Japanese army.
When he returned to Nanjing after Japan was defeated and World War II ended in 1945, he often heard elderly people recall the massive bloodshed the city sustained eight years earlier. During his travels overseas, he learned that Japanese right wing politicians tried to distort the history of the war. "I was very angry," Shao said during a telephone interview with China Daily.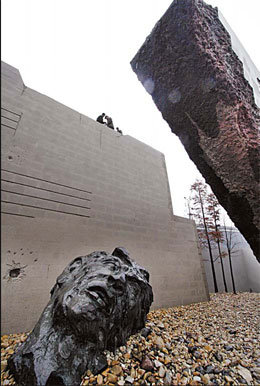 The Nanjing Massacre Memorial, built for the 300,000 civilians and soldiers who were killed during the massacre. Liu Li
The anger compelled him to search for evidence of the massacre in the city where he was born.
Not as well known as Iris Chang, the author of The Rape of Nanking: The Forgotten Holocaust of World War II, Shao, a former UN officer who retired 10 years ago, played a key role in the discovery of John Rabe's diary and an American missionary's film, which documented the human catastrophe.
In the early 1990s, Shao learned that in the 1940s, Life Magazine published photos of the massacre by an American missionary named John Gillespie Magee. The clergyman had also presided over the former US president Franklin D. Roosevelt's burial ceremony in 1945.
Shao later discovered that Magee's son, David, was living in New York and ran into him through sheer luck. It turns out that both men lived in the same district.
In the basement of David Magee's house, Shao found a roll of 16mm film on a shelf, marked "Nanking".
"We were very nervous and unsure about what we would see when we discovered the film," Shao says. "We didn't expect much. That was why it was so shocking to us."
Shao remembers footage of a Chinese man who was still alive and in agony after having a third of his neck hacked away. "The scene was really appalling," Shao says.
There was also footage of a Chinese woman and her two daughters being raped. Later, the Japanese soldiers could be seen stabbing an 8-year-old girl with their swords.
It later turned out that the 8-year-old girl was Xia Shuqin, who survived the massacre and is now one of the few witnesses still alive. The woman and the other girl, who were killed, were Xia's mother and a sister.
In his typewritten notes to accompany the footage, John Magee wrote: "The pictures shown herewith give but a fragmentary glimpse of the unspeakable things that happened following the Japanese occupation of Nanking, on December 13, 1937."
"It seemed to be the attitude of the Japanese officers and men that it was all right to do anything to the Chinese as they were enemies."
Following their discovery of this precious footage, Shao and his friends donated money to produce two films, Magee's Testament and In the Name of Emperor.
After seeing the films, Chang, a second generation Chinese-American who could only speak English, turned to Shao when she came up with the idea to make the holocaust known to the world.
"I was very glad and excited when she joined us in seeking the truth of massacre. She was very diligent," Shao recalls. "I told her about John Rabe, whom I learned about when I studied in Germany. Then she stayed at my home for a while, and every day she drove my car to Yale University's library to collect material."
In the mid-1990s, Chang tracked down Rabe's granddaughter Ursula Reinhardt in Berlin and brought back several pages written by Rabe in German, among which Shao found Rabe's letter to Hitler complaining about the barbarous Japanese soldiers.
"I remember very clearly in the letter he said, 'If you want to learn about what the Japanese army has done, please read my diary'. Then I realized the possibility of his diary's existence," Shao says.
Shao asked one of his old German friends to visit Reinhardt, who mailed to Shao several packages full of notes. Excited at the findings, Shao finally persuaded Rabe's family to make the 1,200-page diary public in New York.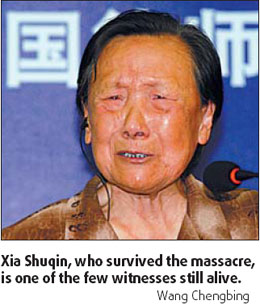 In the diary, Rabe, then a German businessman living in Nanjing, wrote: "These escapades were quite dangerous. The Japanese had pistols and bayonets and I - as mentioned before - had only party symbols and my swastika armband."
Rabe established the International Committee for the Nanjing Safety Zone and dug foxholes in his backyard to shelter 650 Chinese. He also saved some Chinese women from being raped by Japanese soldiers.
Meanwhile, Shao and his friend Sam Chen, also a Chinese-American born in the late 1930s, have organized various events in memory of Nanjing Massacre.
They told China Daily that after Chang's book became a bestseller in 1997, she was threatened by right wing Japanese activists. Chang took her own life in 2004 after a long battle with depression.
"Now we cooperate more with Jewish groups," Shao says. "The Jews are not the only victims of holocaust, and the world should also know that a similar catastrophe happened in Nanjing.".
(China Daily 12/13/2007 page18)