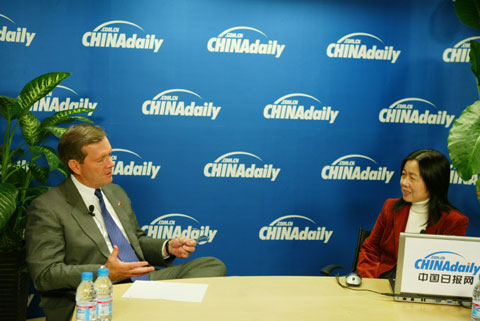 US Health and Human Services Secretary Mike Leavitt (L) is interviewed by Li Xing, chief of the International Department of China Daily at the chinadaily.com.cn office in Beijing December 10, 2007. Leavitt is in Beijing for the China-US Strategic Economic Dialogue. [chinadaily.com.cn]
China and the United States are expected to sign two important agreements on food and drugs on Tuesday during the two countries' strategic economic dialogue in Beijing, a top US health official disclosed on Monday.
Mike Leavitt, US secretary of Health and Human Services, said one agreement is about food and feeds, and the other is on medical equipment and drugs.
But he declined to disclose further details about the agreements during an exclusive interview with chinadaily.com.cn. During the hour-long interview, Leavitt also answered questions from Chinese netizens.
He said the two countries should cooperate in formulating relevant standards so as to make products made in one country meet all requirements of the other. Currently the countries have different systems, but share the same goal, and should establish more communication channels to enhance contacts and cooperation.
Leavitt assured the Chinese audience that the US concerns about imported food safety are not targeted on China, as food safety is a global issue. The US imports food from over 100 countries.
"About $2 trillion (worth of goods) a year is imported into the United States. It comes from about 800,000 different sources and is imported through nearly 300 different ports of entry," said Mr Leavitt.
"So you can see it ranges from food and drugs, but also automobiles, airplanes and there's virtually nothing now that isn't (or some component of it that is not) manufactured outside the United States."
"So we want to change our strategy rather than just trying to prevent things from coming in. We want to help other countries build quality into their products," he said.
"So we've been meeting with the Chinese government, saying if you want to produce goods for American consumers, and we want you to, then you need to do it in a way that meets our standards of safety and quality. Likewise, we want to sell products to Chinese citizens and we would expect to meet your standards of quality."