A State Council investigation team was formed Sunday to probe the deadly gas explosion at a coal mine in Shanxi Province last Wednesday, which killed 105 people.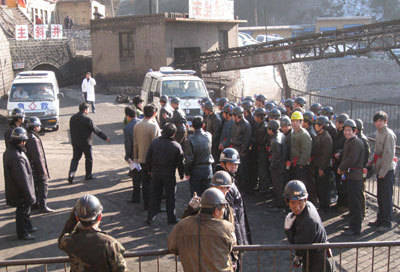 Rescuers prepare to search for the victims after a gas blast at a coal mine in the Hongtong County of Linfen, North China's Shanxi Province December 6, 2007. [newsphoto]
The blast in Hongtong County is believed to be the second deadliest mining disaster so far this year. In August, 181 miners died when heavy rains flooded two mines in Shandong Province.
The gas explosion last Wednesday occurred at 11:15 pm at the Xinyao Coal Mine, a village-run coal firm in Hongtong County, the city of Linfen, while 128 miners were working in the shaft.
Li Yizhong, director of the State Administration of Work Safety, is heading the team investigating the blast.
Li said the colliery's managers had delayed reporting the explosion to local authorities - they had sent another 37 workers down the shafts to get the victims and let slip a crucial time for rescue efforts.
The mine owner and other executives reportedly escaped after the accident, causing more difficulties for rescue work.
Of the rescued miners, 18 were injured with four in serious condition, Li said.
Police have detained 35 people so far, instead of the previously reported 33, who are allegedly connected to or responsible for the fatal blast.
Among those detained were colliery manager Gao Jianmin, and Wang Hongliang, the mine's legal representative.
The mine's license has been suspended and its bank accounts frozen.
The Ministry of Public Security has also issued a class-B arrest warrant for the owner of the mine.
Vice-Minister of Supervision Qu Wanxiang, deputy head of the investigation team, said Sunday that negligence and misconduct are being taken into consideration and those involved will be punished.
Meng Xuenong, the acting governor of Shanxi Province, said Sunday that the province should draw lessons from the incident and improve work safety, especially in coal mines.
Separately, all 11 miners trapped in an iron pit roof collapse in Hebei Province were rescued after a five-day operation by Sunday morning.
Local government authorities said the miners are in stable condition and have been taken to the local hospital for medical check-ups and treatment.
The miners had been trapped for 129 hours after the roof of a private iron and gold ore pit collapsed at 6 pm last Monday in Chengde, a popular summer resort in the province.
But the mine owner failed to report the collapse to local authorities in the city until Thursday morning.
An investigation into the cause of the accident is under way.
China Daily -Xinhua