China's urban fixed-assets investment rose 26.9 percent year-on-year in the January-October period, up from 26.4 percent in the first nine months, the National Bureau of Statistics said on Friday.
The pick-up in investment triggered concerns that an interest rate hike could come soon.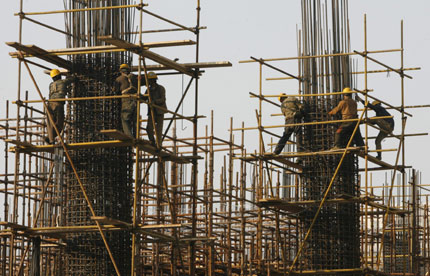 Construction workers erect a new property building in the financial district of Beijing November 16, 2007. [Agencies]
The ferrous and non-ferrous metal smelting industries and the non-metal mineral product industry registered the highest growth rates, according to the bureau.
Investment in the real estate sector increased 31.4 percent year-on-year, up from 30.3 percent in the first nine months.
This is in line with property price movements, as China's 70 large- and medium-sized cities saw their house prices rise 9.5 percent year-on-year last month, 0.6 percentage points higher than in September.
"Fixed-assets investment growth is quite fast," said Yang Shengming, an economist with the Chinese Academy of Social Sciences. "It necessitates further macroeconomic tightening."
Although the bureau did not reveal how fast fixed-assets investment grew in October, analysts estimated it may be up to 30 percent, a rate they said was unreasonably high.
Goldman Sachs (Asia) said in a research note that fixed-assets investment growth was 30.7 percent in October, up from 24.8 percent in September.
China has been trying to cool over-investment in some sectors, such as aluminum, to play down the role of investment and exports in its economic growth.
The government has tightened lending, land use and industrial approval for polluting enterprises, but it needs to strengthen those measures as high investment figures in October shows they remain inadequate, Yang told China Daily.
As the New Year approaches, China should remain alert regarding a further rise in investment growth, warned Zuo Xiaolei, chief economist of China Galaxy Securities.
China's commercial banks tend to extend more loans at the beginning of a year to have more interest gains, and this situation may recur next year, Zuo said.
Chinese lenders remain highly dependent on income from loan interest. "If this is not changed, it will be hard for the authorities to control lending increases at the beginning of a year," she told China Daily.