CHONGQING - A Chongqing government spokesman on Thursday denied media reports that another four million people would be relocated because of environmental problems caused by the Three Gorges project.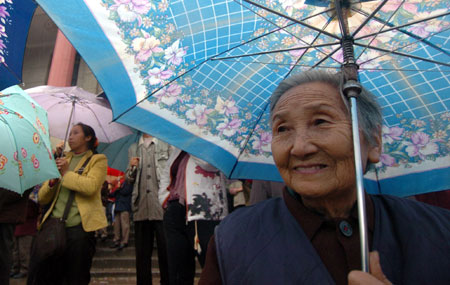 The 81-year-old resident Wu Yongju watches the buildings being demolished in the old location of Kaixian County of southwest China's Chongqing Municipality on Nov. 15, 2007. [Xinhua] 
Last month, China Business News quoted vice mayor of Chongqing Yu Yuanmu as saying the ecological safety of the area was at risk from the growing population.
But spokesman Wen Tianping, speaking at a regular press conference held by the Chongqing authorities on Thursday, insisted that the plan to encourage millions to leave their homes was just part of the urbanization drive and was not a forced relocation.
"The reports that another four million people will be moved out of the Three Gorges Reservoir area are not accurate," Wen said.
"The municipality aims to attract three to four million people from rural to urban areas by 2020 to narrow the urban-rural wealth gap," he said.
Another vice mayor of Chongqing Tang Xiwei said last month that the municipality's development would focus on the areas within a radius of one hour's drive from the downtown area.
Chongqing plans to have 22 million residents in the area by 2020, three to four million more than the current 18 million, according to Tang.
The area accounts for 78 percent of Chongqing's economy volume and is expected to account for 80 percent by 2020, Tang added.
On June 7, Chongqing and Chengdu, capital of neighboring Sichuan Province, were selected by the National Development and Reform Commission, the country's top economic planner, as pilot cities to work towards coordinated and balanced development between urban and rural areas.
In March 1997, the city, which sits on the upper reaches of the Yangtze River, was approved as a centrally-administered municipality, the fourth after Beijing, Shanghai and Tianjin. It was expected to spearhead economic development in China's central and western regions.