DHAKA, Bangladesh - A cyclone that slammed into Bangladesh's coast with 140 mph winds killed at least 425 people before heading inland and losing strength, a local news agency said Friday.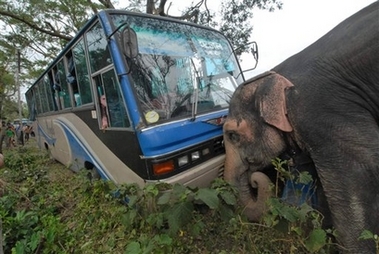 An elephant pushes a stranded bus as it is employed to clear a road in Barishal, 120 kilometers, (75 miles) south of Bangladesh's capital Dhaka, Friday, Nov. 16, 2007. [Agencies]
The government, which has acknowledged problems accounting for the dead, has a far lower toll from Tropical Cyclone Sidr. The storm roared across the country's southwestern coast late Thursday with driving rain and high waves, leveling homes and forcing the evacuation of 650,000 villagers, officials said.
Downpours and staggering winds also spawned a water surge 4 feet high that swept through low-lying areas and some offshore islands, leaving them under water, according to Nahid Sultana, an official at a cyclone control room in the capital, Dhaka.
Relief workers struggled Friday to bring aid to areas devastated by the initial impact of storm, even though Sidr had weakened into a tropical storm and was moving across the country to the northeast, with wind speed falling to 37 mph.
The cyclone flattened thousands of flimsy huts, uprooted trees, electricity and telephone poles, and destroyed crops and fish farms in 15 coastal districts, local government officials and witnesses said.
While government estimates had earlier put the death toll at 242, the news agency - which has reporters deployed across the devastated region - said they had made their own count in each affected district.
The government has acknowledged its trouble keeping count. The official disaster control room in Dhaka, the capital, is struggling to collect information with power and phone lines down in most remote areas. But Dalil Uddin, an official with the Ministry of Disaster Management, said Friday evening that the official toll also would go much higher than 242.
"There has been lot of damage to houses made of mud and bamboo and about 60 to 80 percent of the trees have been uprooted," said Vince Edwards, the Bangladesh director of the US-based Christian aid group World Vision.
Edwards said debris from the storm has blocked roads and rivers, making it difficult to reach all the areas that had been hit.
Government teams also fanned out to deliver food and medicine, said Hasanul Amin of the cyclone preparedness program, supported by the government and the Bangladesh Red Crescent Society.
Power and communications in the capital, Dhaka, were also down. Strong winds uprooted trees, snapped power and telecommunication lines and sent billboards flying through the air, injuring several people, said Ashraful Zaman, another official at the cyclone control room.
At least 650,000 coastal villagers moved Thursday to cyclone shelters where they were given emergency rations, Ali Imam Majumder, a senior government official, told reporters in Dhaka.
Bangladesh, a low-lying delta nation, is prone to seasonal cyclones and floods that cause huge losses of life and property. The coastal area borders eastern India and is famous for the mangrove forests of the Sundarbans, a world heritage site that is home to rare Royal Bengal Tigers.