Bishkek -- The annual summit of the Shanghai Cooperation Organization (SCO) was held in Bishkek, capital of Kyrgyzstan, on Thursday, to discuss a broad range of issues concerning international security and stability as well as multilateral cooperation.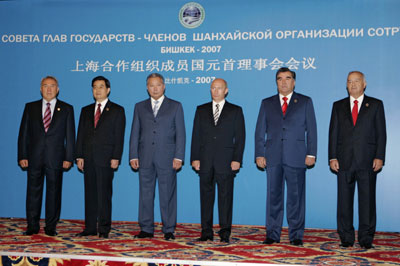 Presidents (L to R): Nursultan Nazarbayev of Kazakhstan, Hu Jintao of China, Kurmanbek Bakiyev of Kyrgyzstan, Vladimir Putin of Russia, Imomali Rakhmonov of Tajikistan, Islam Karimov of Uzbekistan pose for a family photo as they gather for the Shanghai Cooperation Organization Summit in Bishkek August 16, 2007. [Reuters]
Leaders of the SCO's six member states -- Chinese President Hu Jintao, Kazakh President Nursultan Nazarbayev, Kyrgyz President Kurmanbek Bakiyev, Russian President Vladimir Putin, Tajik President Emomali Rakhmon and Uzbek President Islam Karimov -- addressed the summit and inked a treaty on long-term good-neighborhood, friendship and cooperation.
Leaders and representatives from the SCO's observer countries -- Mongolia, Pakistan, Iran and India -- also delivered speeches at the summit.
Afghan President Hamid Karzai, Turkmen President Gurbanguly Berdymukhamedov and United Nations Under-Secretary-General B. Lynn Pascoe attended the summit as guests of the host country.
After six years of development, "the SCO has become an effective mechanism for member states to maintain common interests and promote mutually beneficial cooperation," Hu said.
The organization has become an important force to maintain lasting peace and promote common development, he added.
Since last year's Shanghai summit, the member countries have made further progress in the cooperation in various fields with enhanced political trust, deepened security cooperation, closer economic cooperation, expanded people-to-people exchanges.
"All these results have consolidated the foundation for the long-term, steady development of the SCO," Hu said.
The treaty on long-term good-neighborhood, friendship and cooperation signed at the summit is an important milestone in the development of the organization, he said.
The treaty "confirms the long-cherished wish of peoples from all SCO member states to ensure friendship for generations to come and guarantee peace forever," Hu said, adding that it will "give a vigorous impetus to the development of the SCO."
To ensure the development of the organization, Hu urged all sides to adhere to good-neighborliness and friendship and earnestly implement the treaty in an effort to consolidate the political basis for the SCO.
Hu promised the other SCO member states that China will promote regional economic cooperation to advance towards mutual benefits and all-win results.
Only by adhering to common development can the economic foundation of the SCO be consolidated, He said.
Hu urged all member states to take advantages of geographical vicinity and economic compatibility in an effort to realize common development.
Against the backdrop of globalization, all member states should expand their economic and technological exchanges with other countries and accelerate the process of integrating with the international market so as to benefit from it, Hu said.
China will take substantial steps to promote regional cooperation and will offer credit and financing for projects of bilateral and multilateral cooperation in such priority fields as transportation, telecommunication and energy, he noted.
Hu proposed that SCO members learn from one another, and promote equal exchange between different cultures in a bid to consolidate the social basis for carrying the friendship from generation to generation.
He urged SCO members to expand cooperation in such fields as science, culture, education, sports and healthcare and to facilitate the exchange of youths.
China will establish a scholarship project for students from other SCO members, he said, suggesting that SCO members host in turn exchange workshops for young students.
He also said he hoped SCO members will help promote one another's education of language and culture.
The Chinese president, whose country will host the 2008 Summer Olympic Games in its capital city Beijing, welcomes SCO members to take part in Olympics-related cultural events in China.
He called on SCO members to adhere to the policy of opening up to the outside world and deepen dialogue, exchange and cooperation with other countries and international organizations.
"We should stick to peaceful cooperation and multilateralism," Hu said.
"We should give energetic support to all the activities which benefit regional peace and stability and economic development and the maintenance of the unity and security of the member countries, " he noted.
China will join hands with the concerned sides to carry forward the " Shanghai Spirit", implement the treaty on long-term good-neighborhood, friendship and cooperation and make unremitting efforts for realizing lasting peace and promoting common development, he pledged.
The leaders of the SCO member countries spoke highly of the efforts made in implementing consensus reached at the Shanghai Summit and the treaty on long-term good-neighborhood, friendship and cooperation signed at the summit, saying it is the sufficient embodiment of the "Shanghai Spirit."
Bakiyev suggested the SCO speed up implementation of priority projects in trade and economy, environmental protection, disaster relief and culture.
Nazarbayev said the SCO should promote cooperation in the construction of large infrastructure projects, energy and resources, environmental protection, as well as regional security and stability.
Putin suggested the SCO improve legal basis for anti-terrorism actions, strengthen the building of anti-terror networks and carry out anti-terror cooperation with relevant bodies of the United Nations to jointly cope with new threats and challenges.
He also asked the SCO members to strengthen cooperation in trade and economy, energy, education, healthcare and culture.
Rakhmon urged the SCO to strengthen anti-drug cooperation with Afghanistan and offer assistance for the rebuilding of Afghanistan.
Karimov said the SCO has grown into a major force in the fight against the "three evil forces" of terrorism, separatism and extremism.
The SCO has also forged a platform for member countries to carry out exchange and cooperation in politics, diplomacy, economy and trade as well as culture, Karimov noted.
At the summit, leaders of the SCO member countries inked the treaty on long-term good-neighborhood, friendship and cooperation.
After the summit, the leaders issued a joint communique and the Bishkek Declaration.
Founded in Shanghai on June 15, 2001 as an intergovernmental organization, the SCO groups China, Russia, Kazakhstan, Kyrgyzstan, Tajikistan and Uzbekistan, with Mongolia, Pakistan, Iran and India holding observer status.
At present, the SCO members cooperate in a wide range of fields, including security, economy, transportation, culture, disaster relief and law enforcement, with security and economic cooperation being their top priorities.