BISHKEK -- Chinese President Hu Jintao on Thursday promised the member states of the Shanghai Cooperation Organization (SCO) that China will promote regional economic cooperation for greater mutual benefit and all-win results.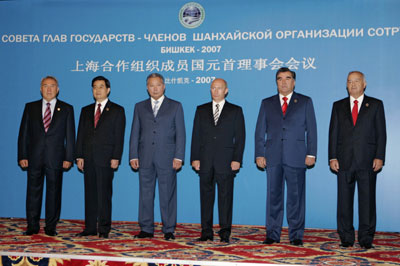 Presidents (L to R): Nursultan Nazarbayev of Kazakhstan, Hu Jintao of China, Kurmanbek Bakiyev of Kyrgyzstan, Vladimir Putin of Russia, Imomali Rakhmonov of Tajikistan, Islam Karimov of Uzbekistan pose for a family photo as they gather for the Shanghai Cooperation Organization Summit in Bishkek August 16, 2007. [Reuters]
Only by adhering to common development can the economic foundation of the SCO be consolidated, Hu said in his address to the SCO summit, which commenced earlier Thursday in Bishkek, capital of Kyrgyzstan.
The SCO, a regional organization founded in June 2001, now groups China, Russia, and central Asia's Kazakhstan, Kyrgyzstan, Tajikistan and Uzbekistan. Mongolia, Iran, India and Pakistan were granted observer status of the SCO.
Hu urged all member states to take advantage of geographical vicinity and economic compatibility to tap their own potentials and achieve common development.
He also suggested that the SCO improve the legal framework of all member states for further cooperation, speed up the promulgation of regulations on road transport facilitation and multilateral treaties to encourage and protect mutual investments, implement the guidelines on multilateral economic cooperation, and carry out exemplary projects in energy, transport and telecom, as well as other areas.
Against the backdrop of globalization, all member states should enhance the international cooperation within the framework of SCO, expand external economic and technological exchanges and strengthen cooperation with the concerned international financial organizations to compete on the international market and benefit from such a drive, Hu said.
China is willing to take concrete measures to push forward the SCO's regional cooperation and promptly implement projects featuring multi-participation and mutual benefits, he said.
Areas such as transportation, telecommunication and energy are given  priority on the agenda for SCO cooperation. Hu vowed to continue to provide necessary credit and financial support to the multilateral and bilateral projects in these areas.