LIMA, Peru - A powerful 7.9-magnitude earthquake shook Peru's coast near the capital, killing at least 337 people and injuring more 827 others, the Civil Defense said early Thursday.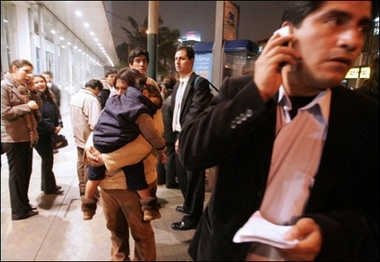 People try to make phone calls in Lima following a strong earthquake, 15 Aug. A powerful 7.9-magnitude earthquake, the strongest to rock Peru in decades, killed at least 115 people and injured more than 1,000 others Wednesday, Health Minister Carlos Vallejos said Thursday. [AFP]
Civil Defense Commander Aristides Mussio released the figures on Peru's state television station, saying one person was killed in Lima and 336 in the region of Ica.
The Civil Defense death toll of 337 first appeared on its website, but the organization's spokesman, Dario Ariola, refused to confirm the figure, which was much higher the numbers provided by the health minister. But minutes later Mussio appeared on television to announce the new death toll.
Deputy Health Minister Jose Calderon called the situation in Ica "dramatic."
Seventeen people were killed when a church collapsed Wednesday evening in the city of Ica, south of Lima, according to cable news station Canal N.
The government rushed police, soldiers, doctors and aid to Ica, but an APTN cameraman trying to reach the city reported that traffic was paralyzed on the Pan American Highway by giant cracks in the pavement and fallen power lines. He said hundreds of vehicles were backed up.
News reports said dozens of people were crowding hospitals in the city seeking help even though the hospitals had suffered cracks and other structural damage.
Ica was blacked out as were smaller towns along the coast south of Lima. Residents of Chincha, a small town 90 miles southeast of Lima, reported that walls of homes had fallen in and numerous people had been hurt by falling bricks and broken glass.
An APTN cameraman who reached Chincha said the floors of the local hospital were covered with dead bodies.
The US Geological Survey said Wednesday's earthquake hit at 6:40 pm (7:40 pm EDT) about 90 miles southeast of Lima at a depth of about 25 miles. Four strong aftershocks ranging from magnitudes of 5.4 to 5.9 were felt afterward.
The Hawaii-based Pacific Tsunami Warning Center issued a tsunami warning for the coasts of Peru, Chile, Ecuador, Colombia, Costa Rica and Panama. A tsunami watch was issued for the rest of Central America and Mexico and an advisory for Hawaii.
The center canceled all the alerts after about two hours, but it said the quake had caused an estimated 10-inch tsunami near the epicenter.
"It wasn't big enough to be destructive," said Stuart Weinstein, the center's assistant director.
An Associated Press photographer said that some homes had collapsed in the center of Lima and that many people had fled into the streets for safety. The capital shook for more than a minute.
"This is the strongest earthquake I've ever felt," said Maria Pilar Mena, 47, a sandwich vendor in Lima. "When the quake struck, I thought it would never end."
Antony Falconi, 27, was desperately trying to get public transportation home as hundreds of people milled on the streets flagging down buses in the dark.
"Who isn't going to be frightened?" Falconi said. "The earth moved differently this time. It made waves and the earth was like jelly."
The quake also knocked out telephone and mobile phone service in the capital and to the provinces, making it impossible to communicate with the Ica area.
Firefighters were called to put out a fire in a shopping center. State doctors called off a national strike that began on Wednesday to handle the emergency.
Police reported that large boulders shook loose from hills and were blocking the country's Central Highway, which heads east into the Andes mountains.
President Alan Garcia also said public schools would be closed Thursday because the buildings may be unsafe.
The last time a quake of magnitude 7.0 or larger struck Peru was in September 2005, when a 7.5 magnitude earthquake rocked Peru's northern jungle, killing four people. In 2001, a 7.9-magnitude quake struck near the southern Andean city of Arequipa, killing 71 people.
The latest Peru quake occurred in a subduction zone where one section of the Earth's crust dives under another, said USGS geophysicist Dale Grant at the National Earthquake Information Center in Golden, Colorado.
Some of the world's biggest quakes strike in subduction zones including the catastrophic Indian Ocean temblor in 2004 that generated deadly tsunami waves.