When Tom Cook attended China Wind Power 2009, the country's major exhibition for the industry, he was amazed by the booming sector showcased at the event in Beijing in October.
"I feel very excited to see the rapid growth of the industry," said Cook, who is Greater China president for US chemical company Dow Corning.
The company is strengthening its portfolio in wind energy in China in line with the growing market, he said.
Dow Corning, a leading silicone products manufacturer, was at the exhibit to display a variety of silicone-based materials designed to improve reliability, durability and the performance of wind turbines. These included materials to make the wind blade stronger, lubricants for different bearings and transformer fluids.
The company's growing presence in China's wind power sector matches the Chinese government's goal to focus on more clean energy sources, Cook said. "It will become one of our priorities in China in the future," he said.
Although wind power business still accounts for a relatively small part of Dow Corning's China business, Cook said it is a sector with the fastest-growth rate and tremendous potential.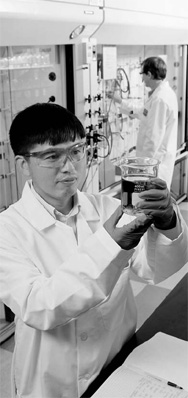 A technician does testing in a Dow Corning lab. The company is expanding its clean energy business in China. File photo
With the accelerating development of China's offshore wind power industry, reliability has become a top issue, Cook said.
He said Dow Corning transformer fluids can greatly increase the reliability of transformers, and already are widely used at wind farms worldwide.
China now has the fourth-largest wind power capacity in the world. Development of the sector has increased more than 100 percent year-on-year during the past three years.
China's wind power installed capacity is expected to exceed 30,000 megawatts (mW) by the end of 2010, up from 12,000 mW last year, Shi Lishan, an official with the National Energy Administration told China Business Weekly in an earlier interview.
While China's wind power industry is promising in the long-run, the growth rate is expected to slow down compared to that of previous years because of overcapacity in some equipment areas, according to a recent report from the international consulting firm Frost & Sullivan.
Like Dow Corning, an increasing number of foreign companies are expanding their wind power business in China.
The Danish company Vestas, which is also the world's largest wind turbine manufacturer, earlier said its investment in China would exceed 3 billion yuan by the end of this year.
Commenting on a current overcapacity in China's wind power equipment manufacturing sector, Cook said it "will be a short-term issue".
Cook said it is smart for the government to take some control of wind turbine manufacturing, which will be healthy for the development of the sector.
"We haven't seen any impact from that so far," he added.
Solar business
Cook said the clean energy business will be Dow Corning's main focus in China in the next few years.
As the world's leading raw materials supplier for the solar power industry, Dow Corning recently announced several billion dollars in investments to provide critical materials to the solar technology industry.
The investments included up to $3 billion through Dow Corning's majority owned joint venture -- Hemlock Semiconductor -- to increase the manufacturing capacity for polysilicon, as well as for construction of Dow Corning's first facility to produce monosilanes, which are the key raw materials used in the production of thin-film solar cells.
These announcements solidify Dow Corning's role in the development of the two most common types of solar cells, crystalline-based and thin-film solar cells, Cook said.
Crystalline-based solar cells use sliced polysilicon as a main semi-conducting material. Thin-film solar cells are made by depositing a thin film of silicon, enabled by monosilane, onto a sheet of another material such as glass.
Zhangjiagang project
In October, Dow Corning, together with German chemical producer Wacker, announced they have started construction of the second phase of their pyrogenic silica plant in Zhangjiagang, Jiangsu province.
Cook said the pyrogenic silica plant, together with a siloxane plant, will be key facilities at an integrated silicone manufacturing site developed by both companies in Zhangjiagang.
The site is China's largest facility of this kind and among the world's largest and more advanced integrated production complexes for silicones.
The company's investments in China total $840 million, Cook said. "Our sales in China have more than doubled in the past five years."
(China Daily 11/23/2009 page5)