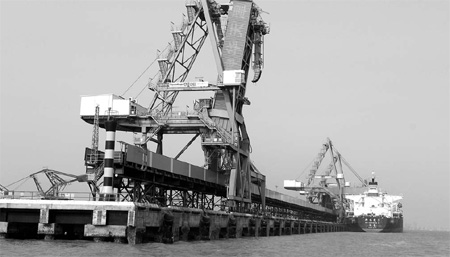 Shenhua Group's coal port in Tianjin. China's largest coal company signed a framework agreement with GE for a coal gasification joint venture during US President Barack Obama's first official visit to China. File photo
US President Barack Obama took his first official visit to China last week, where topics of climate change and clean energy were among his top priorities. with a series of related agreements achieved between China and the United States enterprises.
New agreements
The agreements included joint construction of a solar power project by the US solar energy developer First Solar and the Ordos, Inner Mongolia, local government. The plant, with a planned capacity of 2 gW, is expected to start construction in Ordos next year.
The project is part of a planned 11.95 gW new energy industry demonstration zone in Ordos. The zone is expected to combine solar, wind, hydroelectric and biomass power sources to provide a steady supply of renewable energy.
Agreements also included a framework for an industrial coal gasification joint venture between US-based General Electric Co (GE) and China's largest coal company, Shenhua Group, which would combine GE's expertise in gasification and cleaner power generation technologies with Shenhua's expertise in building and operating coal gasification and coal-fired power generation facilities.
Agreements also included US coal producer Peabody Energy's participation as a full equity partner in China's GreenGen clean coal project.
GreenGen is a $1 billion 650 mW project, a commercial scale power project designed to produce near-zero emissions that is under construction in Tianjin.
GreenGen is being developed in phases and ultimately will capture and store carbon dioxide. Electricity generation will begin as quickly as 2011 with the first 250 mW IGCC unit.
China and the United States both have a lot of work to do in many green technologies like smart grid and carbon capture and storage, said James Close, partner at Ernst & Young, who participated in a training workshop for several Chinese and American mayors on building low carbon cities last week.
Previous cooperations
Actually, the bilateral collaboration on clean energy started a few years ago.
Located near Beijing's East Fourth Ring Road, the Taiyanggong power plant features high-efficiency, low-emissions technology and stands as a global showcase for the successful integration of energy production and environmental responsibility.
The plant can generate about 3,400 gigawatt/hours (gW/hour) of electricity annually. It can also supply heating to millions of buildings over an area of 40 sq km.
The project uses natural gas, a clean energy, in place of traditional coal-fired power generation. It is equipped with gas turbines using technology from GE.
The Taiyanggong project underscores China's commitment to meet both its enormous power requirements and its environmental responsibilities, said Jack Wen, president and CEO of GE Energy China, adding that it is also a great showcase of the partnership between the United States and Chinese business to fight climate change.
The power generating efficiency of the Taiyanggong project is close to 58 percent. If adding the heat efficiency in winters, the efficiency can be as high as 79 percent.
Meanwhile, the efficiency of the most advanced thermal power plants in China is about 45 percent.
The Taiyanggong plant is the first gas-fired power plant with flue-gas denitrification in China. It results in superior nitrogen oxide emission control, which is less than 22.5 mg per cu m, far below the emissions standard in Beijing set at 100 mg per cu m.
Per year, it can reduce carbon dioxide (CO2) emission by 1.62 million tons, greatly contributing to Beijing blue sky.
"This project really leads the industry in the successful deployment of advanced technology, maximizing efficiency while minimizing environmental impact," Wen said.
As the world's two largest energy consumers, Sino-US cooperation on clean energy is critical to the whole world. It will also set a good example for other countries, analysts said.
So far, the biggest collaboration between the two countries in the area is four nuclear reactors using technology from US-based Westinghouse Electric Corp.
Construction of the four reactors, a pair in Zhejiang and another two in Shandong, is now under way. They are using the AP1000 technology, a third-generation nuclear power technology developed by Westinghouse.
A 'win-win' project
"China's choice of AP1000 is a win-win for both China and the US. These plants will greatly increase China's ability to generate significant additional baseload electricity in a clean, safe and economical manner, and enable it to move closer to its goal of energy independence," said Westinghouse President and CEO Aris Candris when commenting on the deal.
"The cooperation between Westinghouse and China begins a new chapter in the industry and sets an example for China-US hi-tech cooperation," Candris said.
(China Daily 11/23/2009 page5)