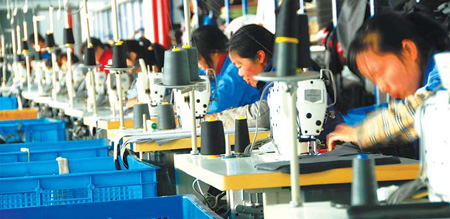 Workers in a private company in Zhejiang making clothes for export. Asianewsphoto
Since the financial crisis erupted late last September, closure and bankruptcies have become a reality for the mostly small- and medium-sized export manufacturers in Zhejiang province. Tiding them over has topped the agenda of banking regulators.
But the situation began to ease in March, just as the snows melt with the coming spring.
"This is neither the first time we faced a crisis, nor will it be the last, and it is surely not the severest," said Wang Jianqiang, owner of a Wenzhou garment factory, who has just received an order from an African country. "The situation is actually better than expected."
"It is the private enterprises here in Zhejiang, especially in Wenzhou, that made the place an economic powerhouse in China in just 20 years," said Wang, "You should not underestimate their ability for survival."
Xinhua news agency reported that in the first half of 2008 private enterprises in Zhejiang contributed 70 percent of the province's total output, 60 percent of its tax revenue and 70 percent of exports. Ninety percent of the province's new jobs are created by private enterprises.
"The first and second quarters this year will be a turning point for private enterprises," Hai Wen, vice president of Peking University said in an interview with the 21st Century Business Herald.
He added that the fate of export-oriented private companies hangs on order volume.
Twenty percent of Zhejiang's SMEs reportedly went bankrupt last year due to insufficient cash flow or shrinking orders from overseas. But an official from the province said "many have closed their businesses in the crisis, but the number is not as high as 20 percent".
"We voluntarily stopped operation before we were caught in the red," the owner of a textile factory in Shaoxing said, adding that the move differs from bankruptcy as it offers an opportunity to wait and see, or to transform into other lines of business.
Transformation seems to be the shared choice for many.
"We do not make lighters in my factory anymore," said a businessman surnamed Wu. He is not in bankruptcy - instead he now heads a guarantee company.
The lighter industry used to be a pillar of Wenzhou's economy, which at one time made 80 percent of the lighters sold in the world. But withering demand has forced 80 percent of the city's 500 lighter makers to shut down, with only 30 to 40 expected to remain in business next year.
Many lighter makers like Wu who stopped their old trade began to test the waters in the guarantee business.
"The financial crisis bolstered the guarantee trade," he said.
For those who went bankrupt, the financial turmoil has been a catalyst to leave their operational woes behind.
According to a survey by 21st Century Business Herald, bankrupt private companies fall mostly into three categories - purely export-oriented enterprises that lack the capacity start in other businesses, companies that ran out of cash due to over acquisition of raw materials or over expansion of business, and enterprises whose capital evaporated with busts in the housing and stock markets.
Export growth
Figures show that exports by Zhejiang's three traditional industries - garments, shoemaking and plastics - all enjoyed more than 20 percent growth in trade value in March.
"The figure itself is quite pleasant," said a manager of a garment factory. "Our exports grew about 30 percent in the first quarter." But because low-end products comprise more than 60 percent of total, "we are making small profits on large volumes", he said.
Shoe exports have the same dilemma and the situation is no better with the plastics industry.
Zhejiang exported 163,000 tons of plastic products in the first quarter, up 5.3 percent, according to China's customs. The province's statistics bureau said in the first two months plastics exported through general trade grew 7 percent year-on-year to $220 million while exports in plastic processing trade dropped 15.8 percent to $60 million.
"Most of the plastic products exported from Zhejiang are low-end products, like tableware and kitchenware," said a sales manager of a plastics company in Jinhua. "Almost 80 percent of our orders in the first quarter were for kitchenware with a limited profit margin."
According to the province's statistics bureau, exports in heavy industry dropped 26.3 percent in the first quarter compared with an 11.7 percent decline in the light industry.
Exports of major hi-tech products declined more than 15 percent, while exports of textiles and garments shrank 13 percent and 0.9 percent respectively. Exports of beverages grew 5.3 percent.
"Stable overseas demand for daily goods cushions exports of low-end products," said an official from the province, because they are substitutes for quality products at a time of economic slowdown.
Financing method
Private enterprises in Zhejiang raise capital through banks, private loans and private equity.
Contrary to previous reports that SMEs have a hard time getting loans from banks, lending institutions in Zhejiang have been generous. ICBC's Zhejiang branch plans to finance 60 billion yuan for SMEs over three years, with the total loan balance reaching 140 billion yuan. Loans from the Bank of China Zhejiang branch reached 14 billion yuan in the first quarter. China Zheshangbank, the Zhejiang-based lender, provided 200 million yuan in new loans to SMEs during the first quarter.
"But SMEs in Zhejiang are mostly financed through the abundant private capital here rather than bank loans," said a person familiar with the situation. Many SME owners receive financial support from their well-off relatives or friends, who have lots of cash on hand.
Most SMEs are reluctant to choose private equity, which could dilute their control over their businesses.
"Private lending is quite robust in Zhejiang," said a man surnamed Zhou who runs an underground private lending firm. "There are quite a number of enterprises referred to underground financing channels to ease pressures on cash flow when loans from banks mature, and they will pay a higher interest rate on that."
But private lending hit a bumpy road during the financial crisis as the government introduced a raft of measures to support SMEs, while the crisis aggravated risks and difficulties with collections of loans.
The banking regulator and central bank also legitimatized some private lenders as microcredit firms on a trial basis last May in a move to legalize and standardize private lending.
But lacking deposits or other ways of raising capital, microcredit firms are not yet profitable, said an insider of a microcredit firm.
"Microcredit lenders are betting on the platform to upgrade their firms into a township bank and they also want to take advantage of this to get involved in government-supported projects," said the insider.
Some private enterprises in Zhejiang are also raising capital by dumping shares of listed companies they bought years ago and that has impacted the stock market, with some even arrested for allegedly undercutting the price of listed stocks.
(China Daily 06/22/2009 page10)