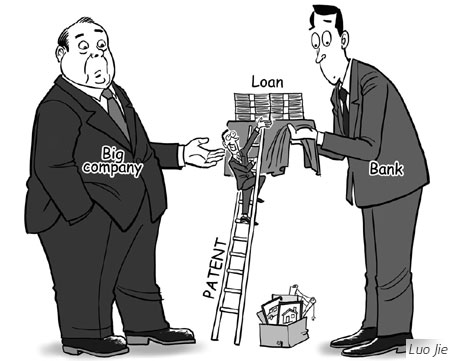 As president of a medical device company in Foshan, Guangdong province, Huang Jintao was delighted to receive a 4 million yuan loan from a local bank at a time when many small- and medium-sized enterprises have gone bankrupt amid the global economic downturn.
He was even more pleased that he did not have to put land, factory or equipment into deposit. Instead, he got the loan by depositing one of his company's patents. That makes his company, Qinlian Medical Industry Group, the first one in the province, and one of the few in China, to finance with invisible assets such as trademarks and patents.
Huang said he would spend more money on technology development and innovation in the future.
"Many small companies have a lot of advantages in technology, but they are unable to turn that technological strength into real capital," said Tao Kaiyuan, an official with the Guangdong government.
Bai Houzeng, chairman of Competitor, a manufacturer of nutritional products based in Beijing, did not know that he could deposit patents at first. He said his business developed rapidly in the first several years due to strong market demand. But his company needs to spend money to finance the expansion. Bai has tried to get bank loans since 2000, but found it difficult because his company did not have adequate assets.
New loan policy
The company finally handed its application to the Bank of Communications when Bai heard about a new business of the bank that allows companies to apply for loans by depositing intellectual property. The deposits include its trademark, Competitor, and several patents that the company owns. The value of the trademark and patents of Bai's company are estimated to be 50 million yuan. Bai finally got 10 million yuan in a one-year loan from the bank.
Bai said the company spent the loan on research and development and upgrading equipment, returned the money by the end of last year, and applied for another 7.5 million yuan in loans.
Bai said loans on intellectual property play an important role for small- and medium-sized technological enterprises like his company: "Innovation needs money, and to transform the innovation into productivity needs money too. Financing on intellectual property rights gives more opportunities for innovative enterprises," he said.
But Wang Xizhang, the manager of a biological company who used to get 10 million yuan in loans by depositing intellectual property, said there are still many problems. He said a company needs to go through evaluation before finally getting the loan from banks, and the cost of the evaluation can be very high and time-consuming.
Potential risks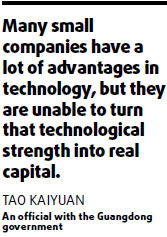 For banks, giving loans based on intellectual property rights can be risky as well. According to a report by the Bank of Beijing, no efficient platform exists yet in China for the trade of invisible assets such as intellectual property. In addition, evaluating invisible assets requires careful work and professional knowledge; the value of a patent could differ greatly under the evaluation of different agencies. Therefore, banks need to choose such agencies carefully.
To counter these risks, the Bank of Beijing has invited several partners, including trust companies and law firms, to jointly evaluate companies that apply for such loans.
Despite the risks, the report says the bank is optimistic about the development of the business: "Technology will play an increasingly important role in economic development, and the demands for financing business with invisible assets such as patents and other technologies will be huge."
The report further speculates that with more policies to support the development of technological enterprises, more financial institutions will start this kind of business.
"People tend to think that it is very risky to finance with something invisible, but this is also a good way for the development of SMEs," said Zhang Boyou, an officer with Beijing Intellectual Property Administration. "In fact, it will be good for both banks and SMEs as long as we prevent and control risks."
Liu Mingkang, chairman of the China Banking Regulatory Commission, also said in a recent speech that the CBRC is trying to experiment with giving loans to SMEs on the deposit of intellectual property rights such as copyrights and patented technologies.
(China Daily 04/27/2009 page11)