Tianjin is trying to increase its share of the central government's 4-trillion-yuan stimulus package to help it get through the global economic slowdown.
The Northern Tianjin municipality plans to develop over 50 projects this year to win a larger part of the package.
Some 21 of the projects are in high-end industries such as electronic information engineering, automobiles, equipment manufacturing and new energy, said Zhang Xiaoyan, executive deputy director of Tianjin Development and Reform Commission.
"As a matter of fact, the central government aims not only to stimulate economic growth by planning such a budget, but more importantly, to provide funds for adjusting industrial structure," said Zhang. "Tianjin intends to make good use of this chance to strengthen support for high-level and high-end industrial projects and to upgrade our industrial structure."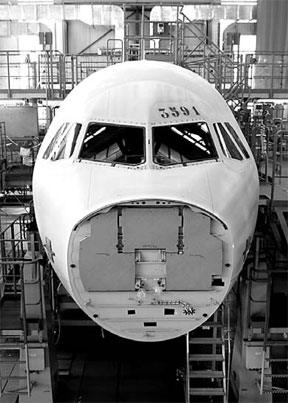 An Airbus SAS A320 airplane sits on the new assembly line in Tianjin. Bloomberg
Tianjin reportedly has obtained about 700 million yuan from the 4 trillion yuan stimulus package in 2008. Tianjin municipal government will channel the capital into infrastructure construction (of transportation facilities and of rural infrastructure). Some capital will go to other projects that enhance energy efficiency and promote environment protection.
"Although 700 million yuan is not a big sum, it will play a significant role and serve as a kind of stimulus, kick starting production and accelerating the construction of other projects in Tianjin," said Zhang.
The press spokesman of the municipal government, Liu Jiangang, said that in 2009 Tianjin will "strive to have sound performance with all the economic indexes being fulfilled at a level comparable to or above that of 2008."
Liu said Tianjin will focus on developing large industrial projects and technologies by speeding up fund raising and the construction of large high-quality projects and supporting technology-oriented businesses and that the municipality will avoid small projects that consume energy excessively and pollute heavily.
"Tianjin aims not only for high quantity in development, but also for high quality," added Liu.
Tianjin, with port facilities, is well-positioned for rapid growth, especially as Tianjin Binhai New Area opens up, said Liu.
Tianjin's GDP reached 635.4 billion yuan in 2008, up 16.5 percent year-on-year, the highest such increase since 1992. The rate ranks second nationwide for provinces, municipalities and autonomous regions, behind only Inner Mongolia's 17.2 percent increase.
Per capita disposable income of urban dwellers rose 18.7 percent, which was 12.6 percent in real terms. China's GDP in 2008 was 3 trillion yuan, with a year-on-year increase of 9.0 percent, the lowest growth margin since 2001.
"Tianjin has not only a wealth of traditional businesses but a lot cutting edge businesses, such as rocket carrier projects. Fostering this kind of top-end and multi-level industrial structure will help Tianjin avoid the worst of the global economic crisis," said Zhang Qiang, deputy director of the Tianjin Bureau of Statistics.
"More importantly Tianjin's economic growth is increasingly being fueled by domestic demand. Domestic fixed asset investment and consumption pulled Tianjin's GDP growth to a greater degree than international trade in 2008," said Zhang Qiang.
Tianjin's domestic fixed-assets investment for 2008 was 340.4 billion yuan and urban fixed-assets investment was 318.944 billion yuan, up 12.9 percent year-on-year.
(China Daily 04/06/2009 page5)