By Anil K. Gupta and Haiyan Wang (China Daily)
Updated: 2009-03-30 08:00
The last 30 years of reform have brought China from the world's periphery to center stage. During each of the last two years, it contributed more in absolute value to world gross domestic product growth than any other country. Even in the midst of the current global economic meltdown, China remains one of the few major economies that is still growing.
The world's financial crisis is hurting China, though. As the global recession takes its toll on China's economy, one of the big questions is whether the country can transform itself from a production powerhouse to an innovation power as well. This transformation is essential for China to sustain ongoing growth in productivity. It will also be central to China's realization of its potential to become the world's largest economy.
The evidence on whether China can innovate is already beginning to come in. One of the most conservative measures of technological innovation is the number of patents granted by (not just filed with) the US Patent & Trademark Office (USPTO). From 2004-07, China-originated patents granted by the USPTO grew at a 27 percent annual rate, compared with virtually zero growth in the number of all patents granted. If current trends continue, by 2020, the number of China-originated patents granted by the USPTO will exceed the number of patents from Germany, Britain, France, and Italy combined.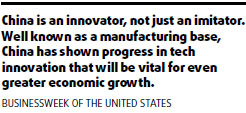 A recent report by Thomson Reuters (TRI) on the development of technologies for green energy also provides relevant data. Between 2006 and 2008, China had the largest number of original patent filings pertaining to wind, solar, and marine energy, followed by Japan, the US, and Germany.
China's lead in alternative energy technologies should not come as a surprise. History tells us that innovation never takes place in a vacuum, but is driven by often acute external challenges. This is why companies from Japan, one of the world's most densely populated countries, emerged as the pioneers of just-in-time manufacturing processes that do not require space for storing inventory.
Similarly, the social and economic challenges unique to or particularly acute in China are likely to serve as the demand-side drivers of innovation. Some of the key challenges (and thus opportunities) pertain to an acute shortage of natural resources, some of the highest degrees of environmental pollution, rapid urbanization, very high population densities, and a society that will start to age rapidly within the next decade.
Other telling indicators of technological innovation in China include its space program, which has already chalked up an unmanned mission to the moon and a space walk by its astronauts. The US experience indicates that NASA's space program was a major source of new technologies, many of which eventually found their way into commercial applications.
Consider also TD-SCDMA, a homegrown 3G technological standard developed by Chinese telecommunications companies. It is currently being rolled out by China Mobile (CHL), the world's largest mobile operator with 450 million subscribers.
Another prominent example is BYD, a China-based global leader in lithium-ion battery technology, which has attracted a $232 million investment from Warren Buffett and is the first company in the world to sell a plug-in electric hybrid car.
The Chinese government appears determined to keep feeding the innovation engine. As part of its 11th five-year plan, launched in 2006, it is on track to increase the R&D-to-GDP ratio from 1.3 percent in 2005 to 2.5 percent by 2020. Many scientific leaders overseeing the utilization of these funds are Western-educated researchers returning to China in growing numbers.
Examples include Shiyi Chen, a chaired professor of mechanical engineering at Johns Hopkins University who is now dean at Peking University's College of Engineering, and Yi Rao, a chaired professor of neurology at Northwestern University who is now dean at Peking University's School of Life Sciences. Also important, government agencies and courts have finally started to become serious about enforcing laws pertaining to intellectual-property rights (IPR). It is a welcome sign that Chinese companies are now starting to file IPR lawsuits against each other in growing numbers.
Notwithstanding the government's determination, China also faces institutional challenges on the road to becoming an innovation powerhouse. These include an educational system that favors learning by rote memorization rather than through creative application, and a hierarchical culture that inhibits going too far out on a limb.
These institutional challenges will take time to redress. There is reason, however, to be optimistic. Remember that it is this very same culture that brought to the world some of the early inventions such as paper, printing, gunpowder, and the compass.
The article was published by the www.businessweek.com on March 9. Anil K. Gupta is the Ralph J. Tyser Professor of Strategy at the Smith Business School of the University of Maryland. Haiyan Wang is managing partner of the China India Institute.
(China Daily 03/30/2009 page11)