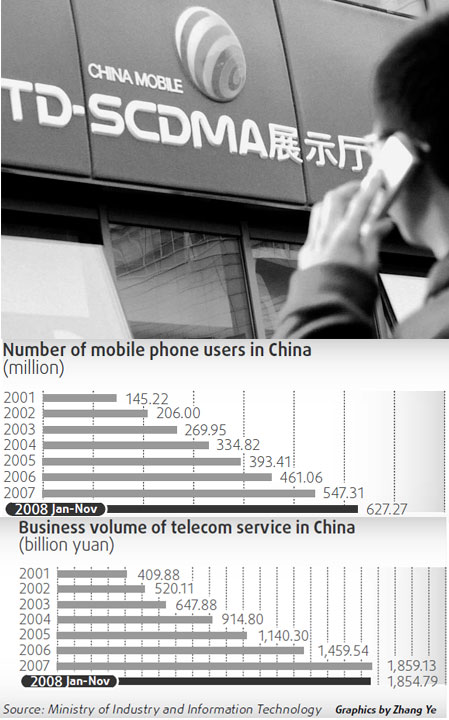 China Mobile faces an uncertain future as China is ready to launch its third-generation (3G) mobile services. The company will be licensed to use a homegrown standard, which may leave users unenthused and shake its market dominance.
China Mobile will receive a license to operate services based on TD-SCDMA technology, which was developed domestically. China Unicom, the country's second biggest wireless carrier, will get a license to offer services on WCDMA (widely used in the European Union). China Telecom will receive permit for CDMA2000 (widely used in the US), according to the country's information technology management authority.
The State Council gave the green light to the Ministry of Industry and Information Technology to issue 3G licenses to operators.
Li Yizhong, head of the ministry, said that three permits will be issued in early 2009.
Analysts say such allocation will change the competitive landscape of China's mobile market. Awarding China Telecom and Unicom licenses based on internationally developed standards may give them a leg up on China Mobile.
"There are many technical defects and problems to be solved during pre-commercial tests. I think China's TD-SCDMA still has at least one year to go before it becomes a mature technology," Wang Yuquan, president of Frost & Sullivan China, told China Daily earlier.
WCDMA and CDMA2000 dominate the global telecom markets and already have the support of the world's equipment and handset makers.
Some of China Mobile's 400 million users may turn to China Unicom or China Telecom, which jointly have less than 250 million users, attracted by the mature technology and greater variety of compatible handsets.
"If China Mobile's service quality is not as good as others', or if I have more handset alternatives if I choose WCDMA or CDMA2000 then there's no reason to stay with China Mobile," said Li Xiaoting, a Beijing citizen.
Li said he switched from China Unicom to China Mobile a decade ago for similar reasons when 2G services started in China.
The government decided to support TD-SCDMA research following complaints that royalties from China's booming telecoms sector all went to foreign companies.
3G networks using WCDMA and CDMA2000 have been possible in China for over three years but the Chinese government delayed launching 3G services while researchers struggled to perfect TD-SCDMA - "a matter of national security and pride" according to Chen Shanzhi, chief engineer of Datang Telecom.
The Chinese government expects issuing TD-SCDMA to China Mobile may help the homegrown technology standard establish a foothold in the market.
China Mobile is promoting TD-SCDMA with calling plans, six subsidized handsets, calling cards and expanded coverage across the country.
But despite widespread government backing and China Mobile's plans, TD-SCDMA's long-term success depends on how it measures up against the two mature standards.
Nobody is certain how many China Mobile users will sign up for TD-SCDMA. Some analysts expect as many as 12 million next year, but most are much more conservative, according to a China Radio International report.
(China Daily 01/05/2009 page5)