Trademark trade
By LILLIAN LIU (China Daily)
Updated: 2007-10-22 07:05
European patent attorneys Marks and Clerk Group hopes its acquisition of Lloyd Wise Group, a United Kingdom-based patent agent with strong connections to the Far East, will help it share in the region's robust growth in demand for intellectual property rights protection.
Rapidly growing economies in China and Southeast Asia are generating increasing demand for high-level intellectual property advice, executives from the group say.
The merger, scheduled for completion by the end of this year, will include all the businesses of the two British patent firms and give the combined group wide representation and resources in China and other Asian countries.
"This merger will further strengthen the firm in two of our key regions and help us to broaden our international offerings. Our clients worldwide will benefit from enhanced resources and an even wider range of expertise," says Chris Gibson, chairman of the board of management at Marks and Clerk.
"It also adds another dimension to our Far East efforts and is part of a continued strategy for growth in the region," says Gibson.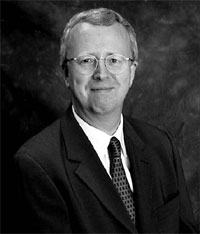 Graeme Hall
Marks and Clerk and Lloyd Wise are both long-established practices, founded in 1887 and 1849 respectively, and share similar histories and culture.
After the merger, the expanded Marks and Clerk Group will have 12 offices in the UK as well as in Beijing, Shanghai, Hong Kong, Singapore, France, Luxembourg and Canada.
Lloyd Wise in recent years has seen significantly more trademark applications originating in China.
The firm filed 2,500 applications in 2005, a sharp 46.6 percent increase over the previous year.
"The growth is very significant. The figures greatly surpass those in Italy, Canada and Finland," says Graeme Hall, chartered patent attorney at Lloyd Wise.
Some 1,705 companies in China applied for trademark registration through Lloyd Wise in 2004, a 32 percent year-on-year increase. The growth was 27 percent in 2003.
The patent agent opened a new office in Shanghai early this year to meet the growing demand.
"The opening of our Shanghai office has proved a success and we are committed to growing our presence in China and Southeast Asia," says Gibson.
The most active trademark applicants in China are companies in pharmaceuticals, general manufacturing, electronics, medical equipment and general engineering, according to Hall.
The majority of the applicants seeking legal assistance from Lloyd Wise are overseas companies that want to distribute their products in China.
"Most of the applicants are overseas companies trying to sell their products in the country (so) local companies need to strengthen their awareness protecting intellectual property rights," says Hall.
Italian fashion retailer Guccio Gucci SPA sued two Chinese companies late last month, alleging infringement on its famous trademark and seeking compensation.
The defendants, Shanghai Basto Shoes Co Ltd and Beijing Hualian Hypermarket Co Ltd, were alleged to have manufactured and sold lady's shoes carrying a logo very similar to that of Gucci - a registered trademark featuring an interlocking "GG" pattern.
Gucci demanded that the two Chinese companies immediately stop producing and selling the shoes and pay 500,000 yuan in compensation, according to the Beijing Municipal No 1 Intermediate People's Court.
The Italian group argued that Shanghai Basto had "apparent subjective malice" in infringing on the exclusive rights owned by Gucci and said Beijing Hualian also committed trademark violations by selling the shoes.
German sportswear manufacturer Adidas-Salomon AG last year received 200,000 yuan in compensation from Shanghai Aidanu Sports Articles Co Ltd and Shanghai Oubufa Clothing Co Ltd for trademark infringement.
Adidas-Salomon AG registered the Chinese version of Adidas as a trademark in China in 1997, covering sports clothes and shoes, while the two Shanghai groups stated in advertising that they were authorized agents of Adidas.
Hall says China's protection of intellectual property will be stronger only when the local inventors become more aware of their intellectual property rights.
A spokesman from the State Intellectual Property Office (SIPO), says China's system for protecting intellectual property has developed rapidly as the number of domestic patent applications greatly increased.
"The total number of patent applications in China in 2006, including inventions, utility models and designs, exceeded 573,000, which was 100,000, or 20.3 percent, more than those in 2005," says Tian Lipu, commissioner of SIPO.
The quality of the patent applications is also improving steadily, he notes. Domestic invention patent applications with hi-tech content have increased four-fold from fewer than 3,500 to 122,000 over two decades.
Enterprises have become the originators of the majority of invention patent applications and a high proportion are granted and implemented, according to SIPO.
With the rapid development of China's patents and the dramatic increase in applications, the patent examination team has also been greatly enlarged.
With more than 2,800 examiners, SIPO is one of the largest examination bodies in the world. By 2010, the number is expected to reach 5,000.
(China Daily 10/22/2007 page9)