Jaguar Land Rover's all-New Range Rover at Auto Shanghai 2013
Updated: 2013-04-15 07:58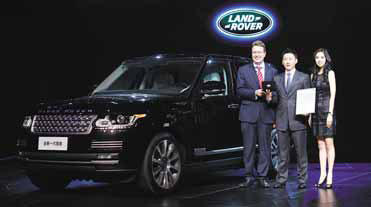 The latest Range Rover, built by British premium automaker Jaguar Land Rover, recently hit the Chinese market and its price tag ranges from 1.5 million to about 2.8 million yuan.
Compared with the previous generation, the new Range Rover has shed about 420 kg in weight thanks to its all-aluminum body and smaller engine.
Buyers of the imported SUV will have the new option of a 3.0-liter V6 turbo-charged diesel engine paired with eight-speed automatic transmission. The diesel engine offers maximum torque of 600 Nm. It can accelerate from zero to 100 km in just 7.9 seconds.
A 5.0-liter V8 naturally aspirated petrol engine and a 5.0-liter V8 turbo-charged petrol engine are also available. Equipped with the improved turbo engine, the SUV can accelerate from zero to 100 km in just 5.4 seconds.