Modern facilities, global reach for Jaguar Land Rover
Updated: 2012-12-24 05:40
By Han Tianyang in Whitley, UK (China Daily)
| | | | | | | | | | | |
| --- | --- | --- | --- | --- | --- | --- | --- | --- | --- | --- |
|   | | Comments() | | Print | | Mail | | Large Medium  Small | 分享按钮 | 0 |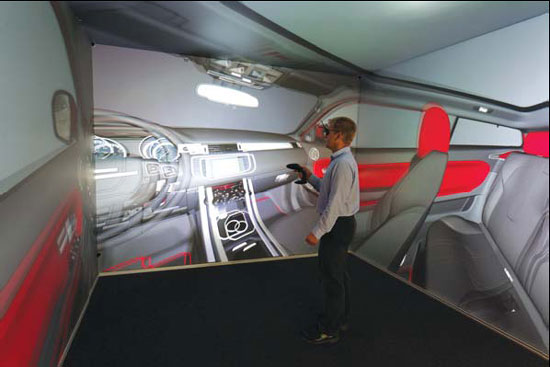 Jaguar Land Rover's 3D "cave" at its Gaydon design and engineering center.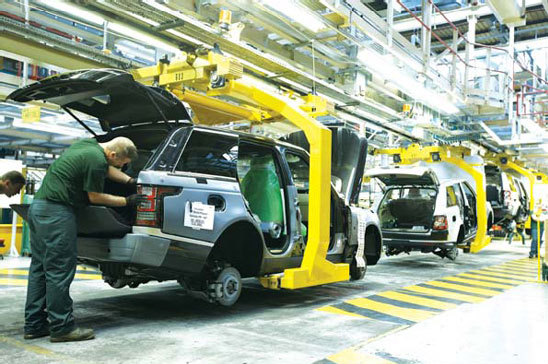 The assembly line at Solihull is operated on three shifts a day since May.
Though Christmas is approaching, Jaguar Land Rover's Solihull plant has been running at three shift schedules throughout the full 24 hours of each weekday.
Home to four Land Rover production lines - for the Defender, Range Rover, Range Rover Sport and Discovery - Solihull is the British premium carmaker's largest plant. It is now rolling out about 780 vehicles a day.
A guide leading our group on a tour of the facility, an old-timer with more than 40 years at the plant, said it is now "almost the busiest time ever"that he can recall.
Global customer demand has been strong for Jaguar Land Rover, especially for its iconic off-road vehicles. The company's worldwide deliveries in the first 11 months this year surpassed 320,000 vehicles, a 32 percent increase over the same period in 2011.
A major part of that growth is driven by China, now the largest single market for Jaguar Land Rover, where sales have grown more than 70 percent in the first 11 months to about 65,000 vehicles.
Then-ailing Jaguar Land Rover was sold to Tata Motors in 2008 by Ford Motor Corp. With adequate financial support from its new owner, the carmaker has since upgraded production lines and introduced new models and made a successful comeback.
An intensive, two-day visit to Jaguar Land Rover's headquarters in Whitley, its design and engineering center in Gaydon and its Solihull plant left the distinct impression that company is indeed going through an encouraging time with added investment in new products, facilities and talent.
According to a technician in the automaker's entertainment and information operation at Gaydon, the "infotainment" team has grown from 80 engineers to more than 300 in the past three years.
They have made many improvements in both the new Jaguar and Land Rover models, including an upgraded navigation system that uses Chinese, Indian, Arabic and Russian. Their efforts also include the world's first in-car 3D surround sound system, which was jointly developed with UK audio company Meridian, as well as features like a rear camera that starts up faster.
"It is truly an exciting time to be part of the infotainment team," said the young man. He also showed a PowerPoint slideshow with a number of innovations in future generation systems.
Nick Rogers in the Land Rover product development department in Gaydon shared the same excitement. An ambitious company plan calls for 40 upgraded and new models from 2012 to 2016, a future he said will be "the most exciting time for engineers working at Jaguar Land Rover will ever see".
The company invested 2 million pounds in a 3D "cave" at the Gaydon center four years ago. Powered by 16 computers, a high-resolution 3D image of a car is shown on four massive display screens. Designers and engineers can easily inspect all details outside or inside the virtual vehicle and change parts as they like, revolutionizing the whole process from the days of using clay models.
Rogers began leading the development of the all-new Range Rover almost five years ago. The milestone product debuted in London in September. Many of its features represent the future direction of the company's products.
The all-new Range Rover is the world's first and only SUV with an all-aluminum bodyshell, which is 39 percent lighter compared to steel. With the reduced weight, vehicle dynamics and fuel efficiency are greatly improved.
Betting on an "aluminum-intensive" future, Jaguar Land Rover has built the world's largest aluminum body shop at Solihull with an investment of 116 million pounds. It started operations in September and is able to produce about 150 vehicle bodies per shift.
The plant is highly automated with a total of 328 robots that in addition to others, work rivet aluminum plates together as conventional welding disappears.
According to the director of the body shop, it is now working 1.5 shifts a day, a load expected to increase to two shifts in January and later to three. The company said that the all-aluminum body will be used on more of its models in the future.
Customization is another major philosophy of the premium carmaker. The all-new Range Rover offers a variety of personalized options.
It has 16 interior color themes for the SUV, seven alloy wheel designs on 20 to 22-inch wheels, optional full-size panoramic roof and various choices in seat color, headlining and interior veneers. In addition, multiple options are available for equipment like illuminated tread plates and electrically deployable side steps. The abundant choices offer a combination of 18,000 options.
Every car moving on the assembly line at the Solihull plant carries a list of specific customer requirements to ensure that the right parts are fitted accordingly.
Inside the facility, a newly established visitor center is connected by a skywalk to the plant. In the future, customers will be able to receive deliveries at a ceremony where the vehicle they ordered makes its debut amid modern lighting technology.
In a meeting room at the company's headquarters in Whitley, a 20-minute drive from Solihull, Mike Wright, the company's executive director, said "we have never had a better opportunity to further develop the appeal of both our brands around the world - to develop our brands in really significant markets like China."
He provided a chart which showed that in 2004, Europe, the US and the UK together accounted for nearly 90 percent of Jaguar Land Rover's global sales. Back then, China just had 1 percent of the auto group's total sales.
Today it has a balanced global footprint, with Europe, the UK, the US and China each accounting for about 20 percent.
This year Jaguar Land Rover established a joint venture with Chinese carmaker Chery for local production of its premium vehicles. With the facilities likely to be in place by 2014, the company expects to see a greater share of sales in China, Wright said.
"The premium luxury segment in the Chinese market will continue to grow - the speed of the growth is the only variable," he said.
hantianyang@chinadaily.com.cn