The drive to go electric
Updated: 2011-08-10 11:32
By Lan Lan (China Daily)
| | | | | | | | | | | |
| --- | --- | --- | --- | --- | --- | --- | --- | --- | --- | --- |
|   | | Comments() | | Print | | Mail | | Large Medium  Small | 分享按钮 | 0 |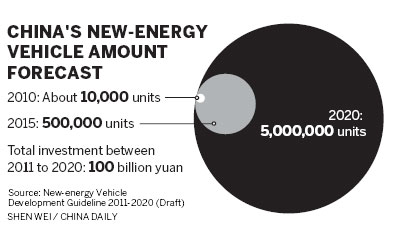 Joint efforts
"It's a good joint venture and each side can learn from the other," he said.
Such cooperation will increase in the electric-car sector. In May, Volkswagen announced that it is teaming up with its Chinese partner, FAW Group Corp, to make electric cars in China. Industry websites have reported that the new vehicle, called the "Kaili", will be on sale by late 2013 or early 2014.
China is currently the world's largest and fastest-growing auto market. However, its short motoring history means that international players still occupy a dominant role in the conventional car market, despite innovations by domestic automakers in recent years.
If this market pattern does not become a pivotal point in the race for new-energy vehicles, Chinese automakers will be unable to transform themselves into leading producers of green cars, according to experts.
"The comprehensive cooperation between international and domestic companies in past decades has helped the Chinese auto industry become larger instead of stronger," said Zhen Zijian, deputy director of the office for electric vehicles at the Ministry of Science and Technology.
The electric-car market will be open to all automakers, but international players should take part in China's new-energy vehicle race in a more "fair and reasonable" way by, for example, moving more research and development (R&D) work into the country, he said.
Foreign automakers used to be reluctant to undertake core R&D in China, partly because of possible infringements of intellectual property rights.
Zhen admitted that more problems have emerged, such as the lack of a high degree of expertise and talent, as mass production of electric vehicles draws closer.
"It is not easy to balance performance and costs," he said.
For electric cars to be accepted by the general public their price and convenience of use must equal that of conventional vehicles, while energy consumption and emissions should be lower.
Compared with their international rivals, most Chinese automakers have failed to establish a streamlined system of component development and supply, which will hinder the development of new-energy vehicles, Zhen said.
"But the more-than-10 years' experience of original engineering in electric cars, plus the lessons learned from pioneering projects, have given us a certain confidence," he said.
The current incentive policies are scheduled to be withdrawn by the end of 2012 and future policy remains unclear. The country's developmental road map for new-energy vehicles over the next decade is expected to be formally released during the coming months.
Foreign automakers are concerned they have been unable to secure the same subsidies as domestic players, but if they were, "it would be a devastating blow to unfledged domestic brands, as well as the whole supply chain for electricity and driving motors", said BAIC's Liao.
"It is worth asking whether it is a good choice to compensate the end products in a sector where the technologies have yet to mature fully," said Hai Yang, deputy-president of CDH Venture Partners, a venture-capital company, that has specialized in investment in the electric car sector for several years.
"A large amount of money has been pumped into the industry, but the market's growth rate is much slower than expected," Hai said.
Jin Yibo, a spokesman for Chery Automotive Co Ltd, said the industry has always been highly cut-throat, so competition in the new-energy sector is inevitable.
"The most urgent bottleneck facing the companies is the incomplete infrastructure. Automakers cannot build the charging stations or battery-swapping sites," he said.