Browsers battle for custom
Updated: 2011-08-08 10:34
By He Wei (China Daily)
| | | | | | | | | | | |
| --- | --- | --- | --- | --- | --- | --- | --- | --- | --- | --- |
|   | | Comments() | | Print | | Mail | | Large Medium  Small | 分享按钮 | 0 |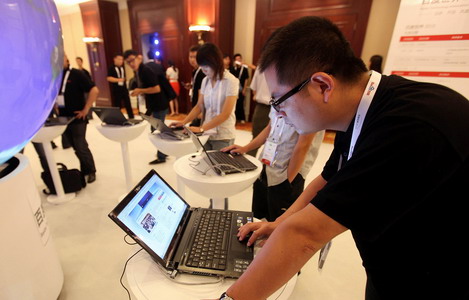 A man browses the Baidu Inc website at a Baidu Technology Innovation Conference in Beijing. Baidu is now the most popular website in China. [Photo / Bloomberg] 

It's war on the Web as new products and features come to the market
SHANGHAI - The web is dead, long live the Internet?
The above question was first posed a year ago by the famous IT critic Chris Anderson. But judging by the fierce competition in the web browser market it cannot yet be considered a truism.
Although web and Internet are commonly used interchangeably, they are not the same thing. According to Webster's dictionary, The Internet is at its most basic definition an electronic communications network. It is the structure on which the World Wide Web is based. The World Wide Web is a part of the Internet "designed to allow easier navigation through the use of graphical user interfaces and hypertext links between different addresses".
Three weeks ago, China's largest search engine by user, Baidu Inc, launched its own web browser, featuring 30,000 free applications and a search bar that connects users to online games, videos and other Internet tools.
With an eye on the country's hundreds of millions of Internet users, Baidu adopted cloud computing technologies for the browser to "provide netizens with a convenient surfing experience", the company said in an e-mail to China Daily.
On the same day, Beijing Rising International Software Co Ltd, an anti-virus software provider, announced that its first Internet client product, Rising Secure Browser, has begun trial tests.
Spokesman Tang Wei told China Daily that anti-virus security, fast-speed and personalization are unique features of the browser.
These developments come as Microsoft Corp's hit product, Internet Explorer (IE), is gradually losing its popularity worldwide, including in China.
IE's market share has dropped by 10 percent in China against last year's figure to 61.02 percent, according to a July survey by CNZZ.com, an Internet information database. In second place is Qihoo 360 Technology Co Ltd's security browser, fielding nearly one-fifth of the market share, followed by Sohu.com Inc's Sogou browser, with 5.61 percent of the pie.
With the move from the wide-open web to semi-closed platforms in the digital world, web browsers, which don't tend to make money, are regarded by vendors largely as a means of making their main products available.
Dong Xu, a researcher with Analysys International, a Beijing-based research firm, said Baidu and Rising's web browsers anchor respectively on the search engine and anti-virus software as their core competitive edges.
Baidu has advantages that tend to reinforce one another. "It has the most people typing in searches, and that generates more data for Baidu to mine to improve its search results, which in turn enhances users' stickiness. The search-engine embodied web browser will provide users with a one-stop solution," Dong said.
The rationale behind Rising's decision to launch its own browser is somewhat similar, in that it highlights safe web surfing to sell more of its anti-virus software, according to Liang Xiao, an IT specialist with CCID consulting.
"Likewise, IE gained ground on a global scale thanks to pre-installation in all Microsoft operation systems. 360 anchored on its start-up scanning program to drive up demand for its browser. Sogou, partly fueled by the homegrown input system, outplayed others in the embedded proxy function, which allow users in education networks to visit international networks directly," Liang said.
A glimpse of the US browser landscape shows a different picture.
Net Applications, a US-based Internet monitor database, reported that as of July, the top three popular browsers by market share in the US are IE, Mozilla Corp's Firefox and Google Inc's Chrome, a sharp contrast with the situation in China.
The rendering engine, a key software component that takes up marked-up content (HTML, image files, etc) and displays the formatted content on the screen, determines the speed of web browsing. Currently there are four major types of engines, namely IE's Trident, Firefox's Gecko, Opera's Presto, and Chrome and Apple Inc Safari's WebKit.
Neither Firefox or Chrome rely on IE's Trident rendering engine, whereas most indigenous browsers in China are dependent on it. Rising's browser will add WebKit in later phases.
"Microsoft lacked the momentum to upgrade its layout engine, causing unpatched bugs that affected all versions of IE browsers. Chinese operators modified these errors but failed to champion faster web browsing," Liang said.
To take on the Microsoft juggernaut, WebKit optimized its internal settings by being open source. "Various tests show WebKit brings about the fastest browsing speed, quite a few steps ahead of its nearest competitor. But due to the limited Internet environment, (most web pages are designed exclusively for Trident engines), it is a pity few Chinese company have managed to ride the boom," Liang added.
Domestic companies often feature one-touch fast tracks integrated into their browsers, with functions such as "print screen" or "music download", presenting a sophisticated interface.
In the overseas market, where surfers tend to be more Internet savvy, foreign operators simplify their products to minimalist levels. For example, Chrome even abandoned the menu bar, leaving only tabbed pages.
These are not the only reasons why Chinese vendors should take a more diverse approach toward rendering engines. According to Dong, the more promising sector for browsers lies in mobile phones and tablet PCs, where the WebKit-driven engine sets the standard.
Homogeneity will be the Achilles' heel that waters down Chinese company's competitiveness, because "with Google's Android and iPhone's iOS gaining momentum, Chinese companies will have a long way to go in the web browser fray", Dong said.