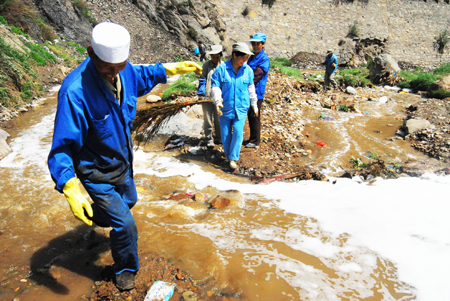 Workers in Angan township of Gansu's provincial capital Lanzhou try to halt the advance of polluted foam along the upper reaches of the Leitan River on May 28, 2008. The foam had been discharged from a plant belonging to Gansu Xingrong Fine Chemicals Co, Ltd, which the local environmental protection bureau ordered to stop production for rectification and pay a 100,000-yuan ($14,700) fine. Pei Qiang
Yu Dena, a National People's Congress (NPC) deputy and Party secretary of Hongchuan village of Jingde County, Anhui province, is concerned about the environment in her hometown.
Related readings:


 China can build 'green economy' by 2030


 Crisis not to weaken fight for a green world


 Green vehicles subsidized in Chinese cities


 Stimulus projects must meet green standards

"It's good to see new houses being constructed. The farmers are excited about moving into them. But that's just one side of the coin. Sewage continues to be randomly dumped anywhere, with plastic bags fluttering in the air," said Yu.
During this year's annual NPC session, Yu proposed that efforts should be stepped up to improve the environment in the countryside.
"Setting up model villages for demonstrational purposes is one thing. Authorities should make people aware of the concept of environmental protection and saving energy in other rural areas as well," she said.
Yu's proposal comes on the heels of the country's commitment to a "green campaign", which has begun to bear fruit.
Premier Wen Jiabao said in his work report at the ongoing annual NPC session that China's energy consumption per 1,000 yuan ($147) of the gross domestic product (GDP) has dropped by 10.8 percent in the past three years.
The country's energy consumption per unit of GDP dropped by 4.59 percent in 2008 from a year earlier.
Wen also announced that the country last year reported a drop in both chemical oxygen demand (COD), a main index of water pollution, and the total emission of sulfur dioxide (SO2), a main air pollutant, by 4.42 percent and 5.95 percent, respectively.
The government had earlier vowed to reduce its energy consumption by 20 percent per 1,000 yuan of GDP from what it was in 2005, and emission of COD and SO2 by 10 percent during the 11th Five-Year Plan period (2006-10).
But the country only cut its energy consumption by 5.38 percent over 2006 and 2007, about a quarter of the five-year target, and saw only a 2.14- and 3.16-percent reduction of COD and SO2.
Chen Yingxu, a Chinese People's Political Consultative Conference (CPPCC) National Committee member and deputy director of the College of Environmental and Resource Science at Zhejiang University, said great efforts were required to achieve the goals set in the 11th Five-Year Plan (2006-10).
Deputy Environment Minister Zhang Lijun said at a press conference yesterday that the country "will not relax its efforts in environmental protection and be over-satisfied with its achievements in 2008".
Some NPC and CPPCC National Committee delegates voiced concerns as to whether the current economic challenges could have negative impacts on China's "green efforts".
Industry insiders also admitted to great pressure in realizing the five-year targets, as companies are "less likely to invest in green facilities" amid financial difficulties.
Ni Puren, a CPPCC National Committee member and deputy director of the College of Environmental Sciences and Engineering at Peking University, said that energy saving and environmental protection actually provides momentum for economic development.
China's 4-trillion-yuan stimulus package also included a 210-billion-yuan investment in environmental protection and energy conservation, said Zhang Ping, Minister of the National Development and Reform Commission.
Wen also said in his work report that the government will strengthen efforts in the three key areas of industry, transportation and construction this year, noting that China will accelerate the development of clean energy.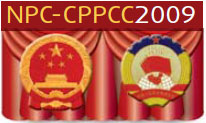 Wu Xiaoqing, also deputy environment minister, said that since the central government launched its strategy of expanding domestic demand and promoting economic development at the end of last month, the ministry had received 194 applications for environmental assessment ahead of their construction. It has postponed the approvals, or disapproved, 14 projects with a total investment of 104 billion yuan.
Wu said these energy-consuming or polluting projects are chemical, petrochemical, steel and papermaking industries. Wu said: "The measures are effective in reforming and upgrading China's industrial structure during the financial crisis."