CNOOC answers the question: 'What's next?'
Updated: 2013-04-16 07:58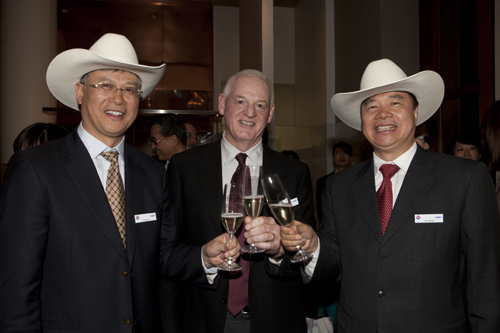 From left: CNOOC CEO Li Fanrong, Nexen CEO Kevin Reinhart and CNOOC Chairman Wang Yilin celebrate the signing of the $15.1 billion deal in Calgary. [Photo/China Daily]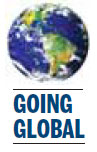 The acquisition of Canada-based Nexen is a big step to diversify geographically while boosting oil and gas reserves, reports Zhang Yuwei from New York.
In an auditorium in late February at the headquarters of oil and gas company Nexen Inc in Calgary, Alberta, two Chinese oil company executives sat on the stage. In front of them, more than 1,000 people, who the day before were employed by Nexen. Now they worked for the two men on the stage who oversee the third-largest oil company in China. And the question on their minds was, "What's next?"
The two CNOOC Ltd executives were Chairman Wang Yilin and CEO Li Fanrong.
To the gathered employees, about one-third of Nexen's workforce, Li gave them answers: Nexen will remain autonomous; CNOOC will keep Nexen's head office in Calgary, retain the some 3,000 employees at their current salaries, list shares on the Toronto Stock Exchange and continue Nexen's community and charitable programs.
The meeting was the first introductory session by CNOOC (China National Offshore Oil Corp) for employees from Nexen, which became a wholly owned subsidiary of CNOOC in a $15.1 billion deal - the largest overseas acquisition by a Chinese company ever.
"It was well received," said a Nexen employee who attended the town-hall session, describing it as "exciting and interesting."
Industry experts see the Nexen deal as a major step by CNOOC to diversify geographically, which Chinese oil and gas companies have been doing since 2009 by purchasing assets in the Middle East, North America, Latin America, Africa and Asia.