'Massive' infusion of money will help shift services from State-run centers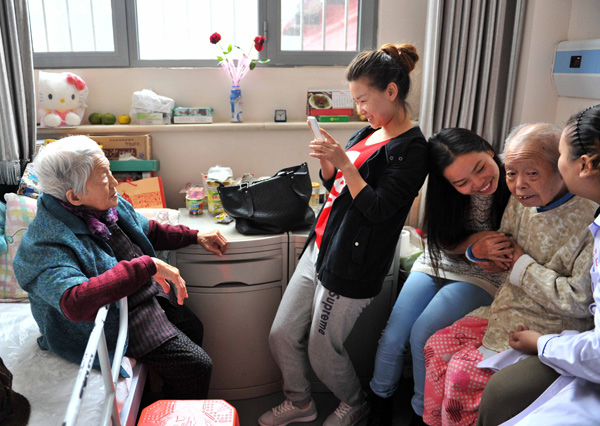 Volunteers visit residents of an elderly care center in Beijing in October. Li Wen / Xinhua
Beijing is seeking to further reduce the costs for privately run nursing homes and is striving to double the number of nursing institutions by 2020 to cope with the graying society.
Although the capital has allocated more than 5 billion yuan ($820 million) every year for elderly care, the annual increase of 150,000 seniors poses a challenge for the government.
The key is to transfer more compensation from State-run nursing homes to private ones, said Li Hongbing, deputy director of Beijing Civil Affairs Bureau.
"It's necessary to make both types of nursing institutions run by the rule and discipline of the market," he said.
Demand for senior care at public nursing institutions far exceeds the supply of services, even as many private nursing homes have vacancies thanks to higher charges and poorer services. So the government will work to provide more tax breaks and land-cost reductions to encourage the growth of private facilities in the next two years, Li said.
"It's necessary to attract more social capital to improve the quality of senior welfare, with more subsidies to the private ones and less to the public nursing homes," he said.
Beijing's graying society is growing rapidly, with more than 400 people celebrating their 60th birthday every day. The capital, home to 2.63 million people above 60 — 20.3 percent of its population — will see an estimated increase of 100,000 senior citizens every year until 2020.
However, the city has only 400 nursing institutions, having a total of 76,000 beds — 29,000 under the government and 47,000 in the private sector.
The private care homes, with their massive up-front investments, usually charge higher prices, while those run by the State enjoy free land from the government and attract more seniors with standardized services.
The government is trying to cut the cost to consumers of private nursing facilities by one-third through large compensations and further reductions of the costs of utilities, Li said.
Li said investment in private nursing institutions would see a "massive increase", with as much as 50,000 yuan ($8,200) allocated for each bed, compared to between 8,000 and 16,000 yuan in the past.
At the same time, Li said the government is seeking to gradually reduce payments to nursing homes run by the government, to make sure the market plays a key role.