Regulators will 'strictly' implement delisting for underperforming firms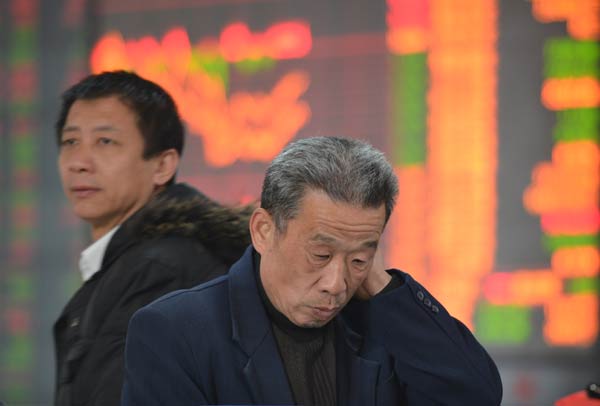 Two men watch the stock market at a broker's office in Fuyang, Anhui province on Friday. The IPO reform plan, which was released on Nov 30, was widely welcomed by the market. Lu Qijian / For China Daily
The China Securities Regulatory Commission will launch a support system for the nation's IPO reform plan and strictly implement a delisting system, the commission said on Friday.
The IPO reform plan, which was released on Nov 30, was widely welcomed by the market, and the CSRC is quickening the pace of the launch of a support system.
"For instance, the Measures for the Administration of Securities Issuance and Underwriting, the IPO Pre-announcement System, and guidance on information disclosure will be released soon after going through related legislative processes," said Deng Ge, a CSRC spokesman.
"The IPO reform plan and the support system will give securities firms more decision-making power and create an internal check-and-balance system," said a banker, who wished to remain anonymous, at a major global investment bank.
The country's securities regulator said it will also improve the delisting information disclosure process by increasing the frequency of disclosures, perfecting the content of disclosures and enhancing supervision to fully reveal risks for investors.
A time period will be set for investors to consider whether to sell shares or hold them in companies that will be delisted.
Shares of delisted companies may be transferred to the National Equities Exchange and Quotations board — the so-called "third board", an equity exchange system for small and medium-sized enterprises.
Delisted companies may apply for listing again if they meet the requirements of stock exchanges by improving business management or also via M&A deals.
"Marketization, legislation and normalization will always be the directions of the delisting system reform, and the CSRC will strictly implement the delisting system to perfect the resource allocation efficiency of the Chinese capital market," said Deng.
The spokesman said the commission will promote voluntary delistings of companies that have the possibility of going private.
"We will pay more attention to the National Equities Exchange and Quotations board after hearing the news because there may be a possibility that companies listed on the "third board" will be listed in the future in the Shanghai or Shenzhen stock exchanges," the banker said.
The CSRC is also promoting a move to boost cash-dividend payments for State-owned listed companies. The commission is working with the State-owned assets administration department to turn the market value and cash-dividend payments of State-owned companies into indicators of their performance.