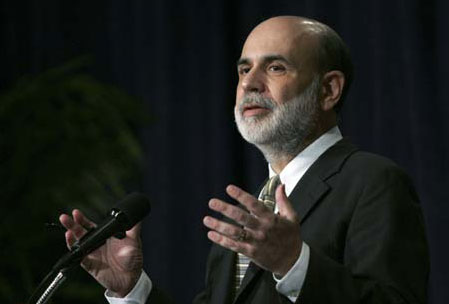 US Federal Reserve Chairman Ben Bernanke speaks to the National Association for Business Economics (NABE) about the current state of the economy in Washington, October 7, 2008. Bernanke said recent economic data and financial developments showed that the outlook for growth had worsened while the outlook for inflation to ease had improved. [Agencies]
In response to the growing crisis, the US Fed reduced its key rate from 2 percent to 1.5 percent. In Europe, which also has been hard hit, the Bank of England cut its rate by half a point to 4.5 percent and the European Central Bank sliced its rate by half a point to 3.75 percent.
Related readings:


 Stocks rise tentatively after rate cut


 Fed orders emergency rate cut to 1.5 percent


 Australia cuts rate by 1%, lifting stocks


 More rate cuts needed to fortify economy
The central banks of Canada, Sweden and Switzerland also cut rates. The Bank of Japan said it strongly supported the actions.
"The recent intensification of the financial crisis has augmented the downside risks to growth," the Fed said in explaining the coordinated action.
"The financial market developments will affect global economic growth and China must take action to cope with the challenge of external impact," Dong said.
Interest rate cuts alone, however, may not be very effective in invigorating the national economy, said Wang Tao, head of the China economic research unit of UBS.
The interest rate cuts show that policymakers may be facing reduced inflationary pressure, analysts said. The government is to release September inflation figures soon.
In August, inflation rose by 4.9 percent year-on-year, signaling an apparent downward trend after it reached a 12-year high of 8.7 percent in February.
However, some are worried that the inflation level may rise again in the coming months if energy prices are liberalized.
"Inflation could rebound in the coming months and the central bank cannot ignore that potential risk," Ma Ming, economist with the Beijing Institute of Technology, said.