An astonishing one percent interest rate slash by the Australian central bank on Tuesday, its biggest reduction in about 20 years, spawned anticipation in Asian-Pacific markets that other countries, including China and India, might soon follow suit to rescue a slowing world economy.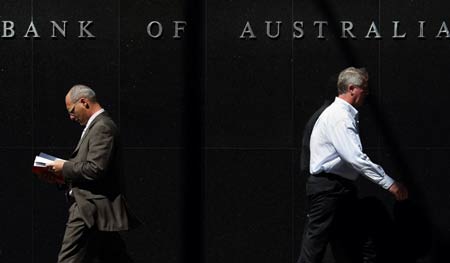 Two men walk past the Reserve Bank of Australia in Sydney October 7, 2008, moments after it announced a cut in official interest rates. [Agencies]
Investors across the region took heart, erasing some of the earlier losses that dragged down shares from Sydney to Seoul to Shanghai.

Related readings:


Asian Markets Show Signs of Life


Dow Tumbles Below 10,000


The rot in US version of financial capitalism


PBOC Denies Buying American Debt
Reserve Bank of Australia Governor Glenn Stevens cautioned that 100 basic points reduction – twice the size analysts had expected – was justified given the severe deterioration in the outlook for global growth and the sharp rise in credit costs. While the governor said such moves should not be the norm, he left the door open to further easing in coming months.
The Bank of England's Monetary Policy Committee is widely expected to cut borrowing costs on Thursday and investors are pricing in similar moves by the US Federal Reserve and the European Central Bank pretty soon.
Investor hopes that the Australian move could be a prelude to a unified worldwide response to the financial crisis, started from the United States, helped markets to steady in Asia. Equities rallied regionwide.
Much of Asia fought back, seizing on the glimmer of hope from Australia. Australia's benchmark S&P/ASX 200 index leapt 2.3 percent after starting the day in negative territory and dipping to a three-year low.

Japan's benchmark Nikkei 225 index erased some of its early heavy losses to close down 3 percent at 10,155.90 on Tuesday. Earlier, it had plunged over 5 percent to below 10,000 for the first time in almost five years.
South Korea's KOSPI clawed its way back from its lowest close in 21 months on Monday to trade up 0.5 percent.
In Shanghai, bank shares rebounded amid speculation that government investment fund the Central Huijin could step in, again, to resume buying shares on the market. The Shanghai Composite Index, which tumbled 5.23 percent on Monday, ended Tuesday down 15.9 points, or 0.73 percent, to close at 2,157.84 points on Tuesday.