WASHINGTON - The Federal Reserve, acting in coordination with other global central banking authorities, cut a key US interest rate by half a percentage point Wednesday to steady an economy teetering on a collapse reminiscent of the 1929 stock market crash.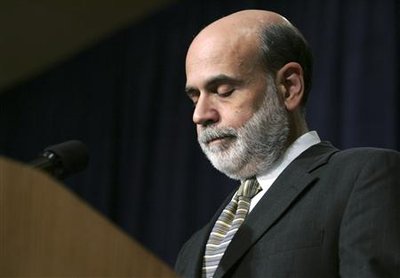 Federal Reserve Chairman Ben Bernanke pauses during a speech to the National Association for Business Economics (NABE) about the current state of the economy in Washington, October 7, 2008. [Agencies] 
Fed Chairman Ben Bernanke and his colleagues ratcheted down their key rate by 0.5 percentage point to 1.5 percent. The action revives the central bank's rate-cutting campaign which had been halted in June out of concerns that those low rates would worsen inflation. Since then, however, economic and financial conditions have dangerously deteriorated, forcing the Fed to reverse course.
Related readings:


 RBS shares close under £1 on bailout fears


 US bailout rescue plan could drive investors to crazy course


 A bailout for failed investment bankers?


 Central bank dismisses bailout rumor
The fact that the Fed felt it couldn't wait until its regularly scheduled meeting on Oct. 28-29, underscored the urgency of the situation.
The Fed took the action in a coordinated move with other central banks, which also were cutting their rates.
"The pace of economic activity has slowed markedly in recent months," the Fed said "Moreover, the intensification of financial market turmoil is likely to exert additional restraint on spending, partly by further reducing the ability of households and businesses to obtain credit."
Although inflation has been high, the Fed believes that the recent drop in energy prices and the weaker prospects for economic activity have reduced this threat to the economy.
In Europe, which also has been hard hit by the financial crisis, the Bank of England cut its rate by half a point to 4.5 percent, while the European Central Bank sliced its rate to 3.75 percent.