NEW YORK - Wall Street fluctuated in early trading Wednesday as investors questioned whether an emergency interest rate cut would be enough to revive credit markets and ward off a global recession. The major indexes moved in and out of positive territory, reflecting investors' uneasiness and lack of direction.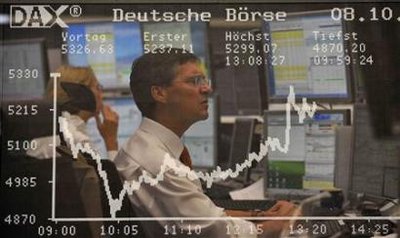 The share price index DAX board is seen in front of a share trader at Frankfurt's stock exchange October 8, 2008. [Agencies] 
Stocks initially plunged as the rate cut by the Federal Reserve and other big central banks failed to convince investors that credit markets that have been nearly paralyzed for weeks would soon relax. Stocks then moved higher, but some bounceback after the Dow Jones industrials fell 875 points this week was to be expected - the question was whether any optimism was in fact beginning to take hold, or whether the gains were due to bargain-hunting.
Many traders had expected that the Fed would eventually come through with a rate cut to help revive the credit markets.
The Fed cut interest rates by a half-point, trying to restore confidence in the market and help end the global financial crisis. The central bank said in a statement that the market turmoil posed a further threat to an already shaky economy; it was joined in the rate cut by the European Central Bank, Bank of England, The Bank of Canada, the Swedish Riksbank and the Swiss National Bank.
But the market was well aware that interest rate changes take months to work their way through the economy, and while they clearly were happy with the central banks' actions, they were also well aware that in the near term, banks remain highly reluctant to lend because of fears they won't be paid back.
That fear, which increased after the failure of Lehman Brothers Holdings Inc. in mid-September, has all but shut down the credit markets, making it increasingly hard for companies and individuals to borrow, and in turn, posing a further threat to the economy.
Stocks did draw some support Wednesday from signs that the housing industry - whose troubles set off the series of events leading to the current credit problems - might be faring better than expected. The National Association of Realtors said pending home sales for August jumped unexpectedly, rather than falling 1.8 percent as had been predicted. Pending sales, which reflect signed contracts, rose 7.4 percent in August from an upwardly revised reading of 87 in July.
In midmorning trading, the Dow fell 79.01, or 0.84 percent, to 9,368.10.
Broader indexes also advanced. The Standard & Poor's 500 index fell 2.14, or 0.21 percent, to 994.09. The Nasdaq composite index was down 1.53, or 0.09 percent, to 1,753.35.