Taiwan man's business dreams come true in Beijing
Share - WeChat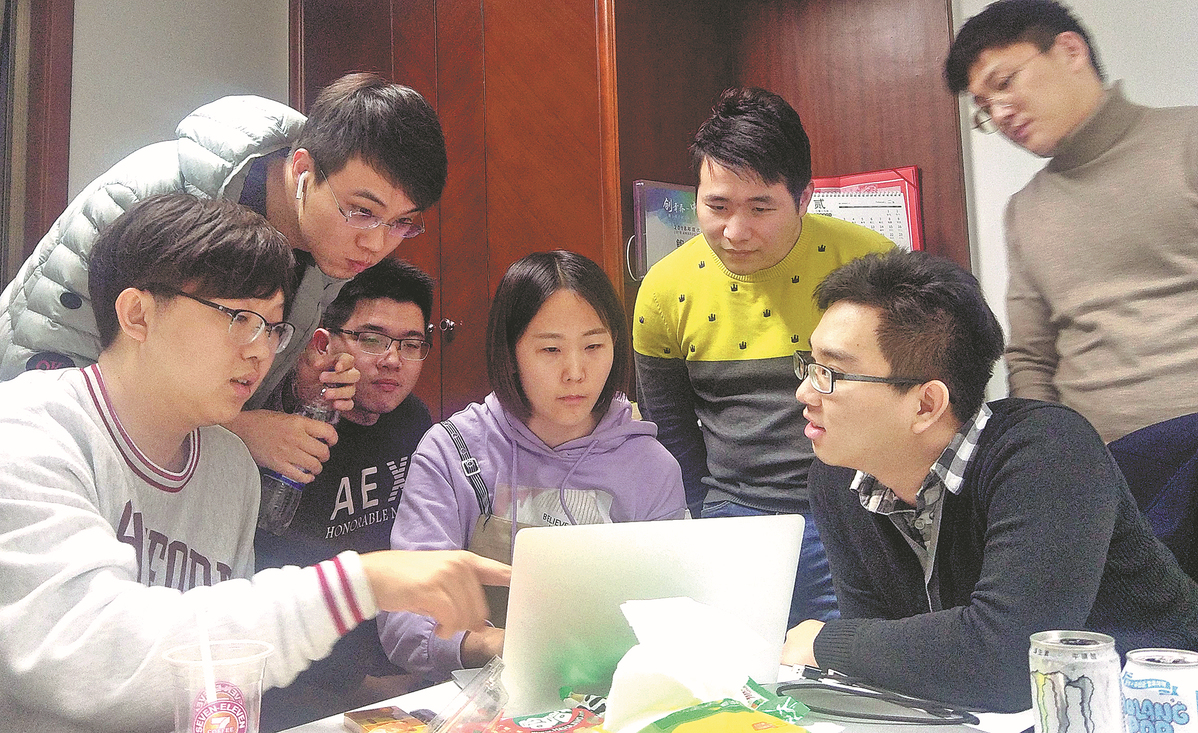 Hsu Tao, a young man from Taiwan realized his entrepreneurial dream in Beijing by launching an internet startup with Chinese mainland counterparts who developed a mobile application for flexible-job seekers.
Every day, a number of people, from college students to young mothers, log in the app looking for flexible jobs like restaurant servers and package sorters during peak times to earn extra money. About 10,000 enterprises have used the platform to advertise their jobs and what they'll pay.
The 30-year-old from Taipei had been dreaming of making his own business, and he tried to start his own business three times in Taiwan while he was in college, but none of them worked.
Occasionally, he'd meet a student from the mainland who was in an exchange program in Taiwan. After gathering information on various types of business on the mainland, he became inspired by the vibrant startup atmosphere in Beijing.
"I was attracted by the vigorous internet entrepreneurial atmosphere after hearing about the popular share bikes and car-hailing and delivery platforms on the mainland," he said.
He later visited a number of mainland cities through cross-Strait exchanges. That helped him to realize that the mainland was also an option for him.
In 2017, he moved to Beijing and worked with his mainland friends at Zhongguancun, known as China's Silicon Valley, to establish their company that develops baocase.com, which helps people find temporary jobs.
It focuses on various service industries, like restaurants, hotels and supermarkets. Addressing the challenge of finding extra help during peak times, Hsu's platform connects employers with workers available on a flexible basis.
It provides opportunities for students with limited schedules, housewives seeking suitable employment or people looking for additional income, he said.
At first, the idea was not well-received, so they spent their days conducting customer surveys in malls and going door-to-door to understand users' needs. Sometimes, they even took part-time jobs as deliverymen to earn money. In the evenings, they would get together to discuss and improve their product.
Hsu went through a period where he couldn't afford to pay employee salaries for 10 months, and he lived on instant noodles in his 8-square-meter rented room.
Finally, they secured several rounds of investment and the business grew. The team also received a lot of support from the mainland government and investors.
"The business model, which may even not be understood by investors in Taiwan, can indeed be successful on the mainland, and it proves that young people have opportunities on the mainland, with its great atmosphere for startups," he said.
"If I hadn't crossed the Taiwan Strait, I would never have known how big the world is."
The platform boasts nearly a million downloads, providing flexible employment opportunities of over 1 million working hours.
Beijing recognized the team as a role model in entrepreneurship and employment, and saw its contribution in job creation, especially during the COVID-19 pandemic, when flexible jobs were greatly needed.
Hsu said that over the past six years he has navigated the challenges of working with his mainland partners, bridging the gap of their different backgrounds.
"We come from various parts of the country, and our team debated heavily almost every day, but we are close as a family," he said.
Hsu said he firmly believes that cross-Strait collaboration allows for the recognition of each other's strengths and creating greater value.
"Taiwan youths should explore opportunities on the mainland, as it broadens their horizons and dispels any preexisting misconceptions or fears," he said.
The company continues to make significant strides in Hsu's entrepreneurial journey, and he was listed in the Forbes China Under 30 Elite List.
"Working on the mainland, I feel like a fish in the ocean. I'm a Beijinger now," he said.