Cross-Strait marriages see sharp increase amid deepening integration
Share - WeChat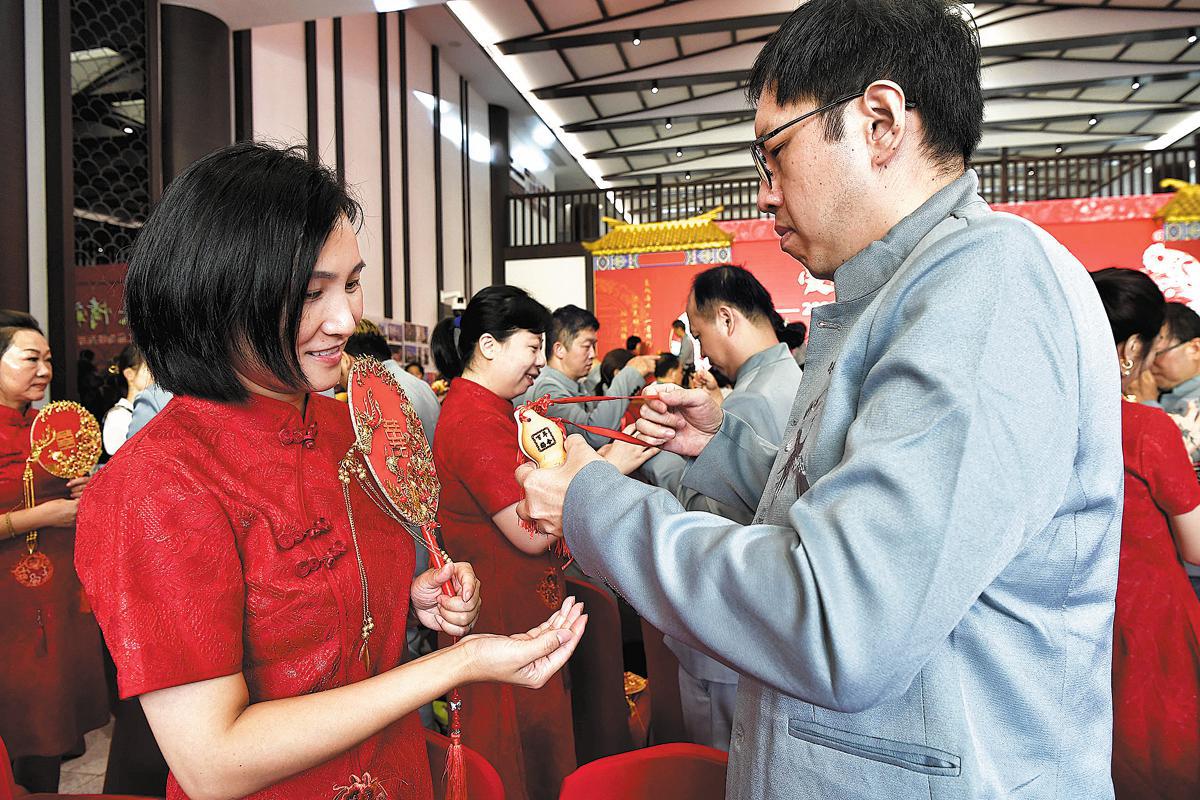 Cross-Strait marriages are seeing a major rebound after the COVID-19 pandemic, with more couples settling down on the Chinese mainland due to better job and economic prospects, analysts said.
According to a recent report by Taiwan's "mainland affairs council", the total number of cross-Strait marriages exceeded 350,000 as of June.
In the first half of the year, 3,532 cross-Strait marriages were recorded, up 185 percent year-on-year, the report said.
Feng Fapeng, director of the Fu­jian Home Service Association's cross-Strait marriage committee, said that Taiwan's Democratic Progressive Party authorities used COVID-19 as an excuse to block cross-Strait exchanges, which created tensions and acted as a deterrent for cross-Strait marriages.
From 2008 to 2015, when the Kuomintang was in office, there were close exchanges between both sides and the annual number of cross-Strait marriages was 10,000 or above, according to the report.
The number gradually declined after the DPP came to power in 2016. It dropped to just over 2,000 a year in 2020 and 2021 due to the impact of the pandemic, data showed.
Feng said that as Taiwan grappled with an economic slump in recent years, many young people came to the mainland to study, find jobs and start businesses.
"As grassroots communication gradually resumed, more young people came to the mainland, and many have settled down," he said.
Shih Hsueh-yen, chairwoman of the Taiwan Cross-Strait Marriage Family Services Alliance, said in recent years, more cross-Strait couples, especially newlyweds, chose to settle down on the mainland.
Shih, from Zhangjiakou, Hebei province, moved to the island 24 years ago after marrying a Taiwan man. She said that many women like her are thinking about moving back to the mainland, which indicates that cross-Strait relations are undergoing changes not seen since the 1970s.
"Taiwan's development has become stagnant, and many young people get poorly paid. In contrast, the rapidly developing mainland has become an attractive place for them," Shih said.
The mainland continues to release favorable policies, making it more convenient for Taiwan compatriots to live and work, she added.
Lu Ying-chih, an engineer from Taiwan, is an associate professor at Fujian University of Technology. He moved to Fuzhou, the capital of Fu­jian province, in 2011 to work at the university's School of Transportation.
He said that life is becoming more convenient as Fujian rolls out policies to give Taiwan people the same treatment as locals.
Lu met his wife, who works in the logistics industry, in 2014. The two got married in 2019 and had a baby boy the following year. Because of his job and family, Lu decided to settle down on the mainland.
"A cross-Strait marriage is precious and should be cherished. It's a pity that some couples break up because of their differences," he said. "For partners who come from different backgrounds, it is important that they understand each other and be more accommodating."
Lu said his son fits in with both sides of the family and has even picked up a bit of the local dialect after visiting relatives in Taiwan.
Feng, from the home service association, said that cross-Strait marriages not only enhance mutual understanding and cultural exchanges, but also serve as a "bond of kinship and play a vital role in promoting deep integration between Fujian and Taiwan".
Fujian, the nearest mainland province to Taiwan, accounts for about one-third of cross-Strait marriages on the mainland. Such marriages are expected to increase as the province attracts more people from Taiwan, Feng said.
Last week, the mainland issued a circular making Fujian a demonstration zone for integrated development across the Strait, with more measures put in place to make the province the first choice of destination for people from Taiwan.
With the implementation of this policy, Feng said that more individuals from Taiwan will come to Fujian, and potentially find a suitable partner, which will help them land jobs and fit into the lifestyle, and contribute to the integrated development.
In August, the Fujian Home Service Association set up a special committee for cross-Strait marriages and families. The committee provides professional services such as matchmaking and relationship counseling.
It plans to build an online platform that utilizes big data to serve matchmaking, and will encourage more people from Taiwan's wedding industry to work on the mainland.