Tianjin land subsidence a 'sudden geological hazard'
Share - WeChat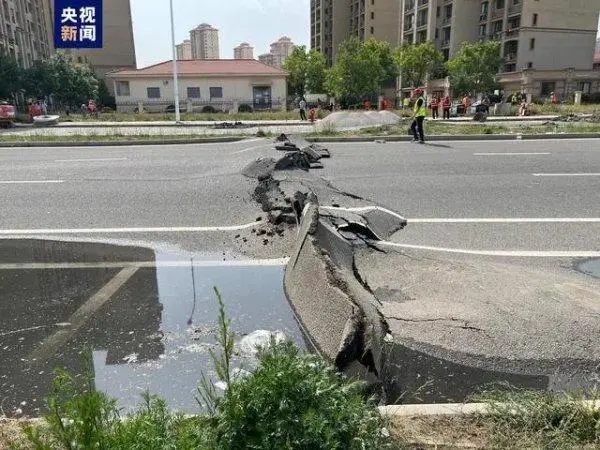 A preliminary judgment was made on Thursday that a case of land subsidence, which began in Jinnan district in Tianjin on May 31, was the result of a "sudden geological hazard", according to local news outlet Jinyun.
"Preliminary findings indicate that the sudden geological hazard was a result of the complicated geological structure deep underground. Based on the findings of scientific institutes, geologists suspect that there may be a geological cavity about 1,300 meters underground, which ordinary exploration was unable to discover," an expert told Jinyun.
"We can't exclude the possibility that geothermal well drilling projects came into contact with the deep geological structure, resulting in soil erosion and subsidence at ground level," the expert continued.
Twenty experts from the Ministry of Natural Resources, the Ministry of Housing and Urban-Rural Development and the Ministry of Emergency Management as well as 10 geological survey, housing appraisal and construction teams conducted on-the-spot surveillance, he added.
Between May 31 and June 2, when the subsidence was occurring at a rapid pace, some buildings were affected. The city has reinforced the area by introducing additional material.
"For the moment, experts have concluded that the ground is gradually recovering and the subsidence is under control," he said.
Between June 1 and 3, almost 3,900 residents of three high-rise residential buildings were relocated to nearby hotels and will remain in temporary accommodation for the time being.
The Jinnan district government announced on June 1 that cracks in the earth began appearing in parts of Balitai township, and traces of water seepage were found on the walls of underground parking lots.
Experts have established over 80 surveillance points and produce progress reports every two hours, Jinyun reported previously.
The city will continue monitoring, conducting analysis to determine the next steps, it said.