I&T awaits reboot after HK$130b over six years
Share - WeChat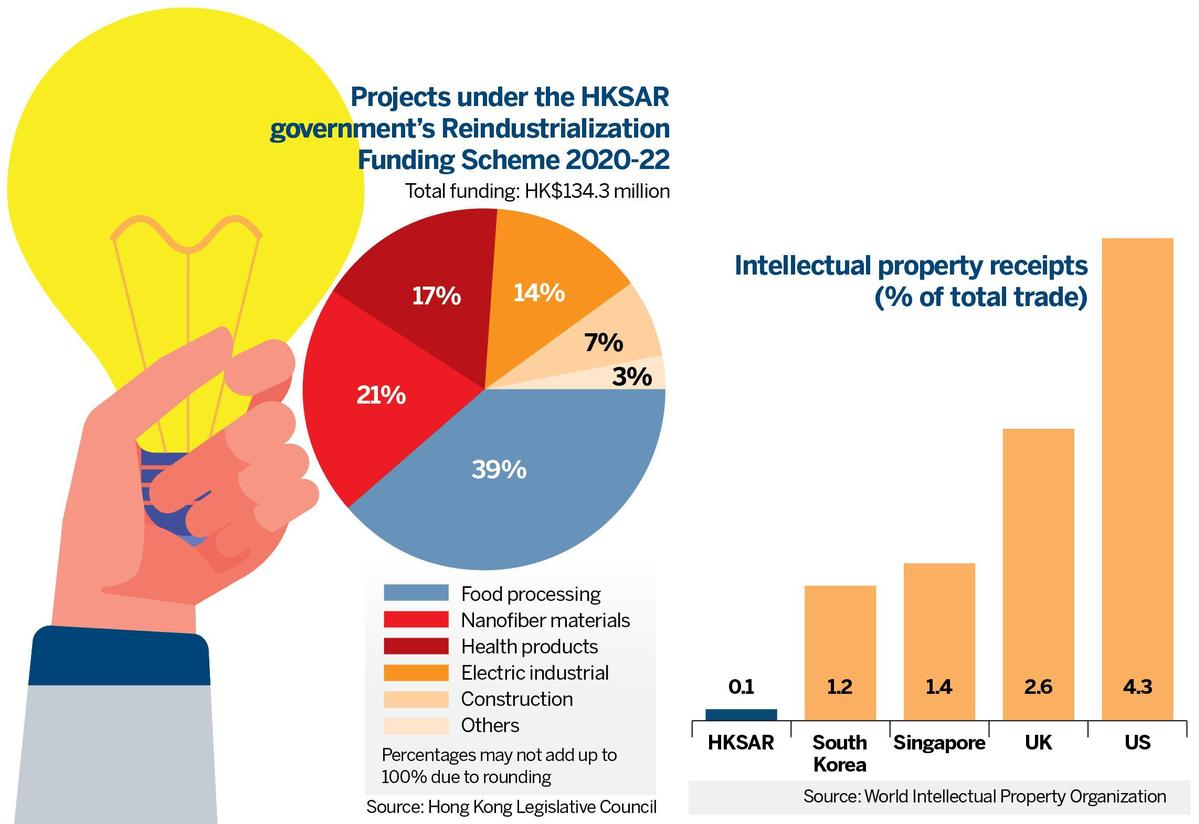 The city's innovation and technology (I&T) value chain needs a reset for key talent, applied research, land for innovation manufacturing, and complementary integration with the mainland's digital hubs. Talent to drive reindustrialization is scarce. Do global professionals still find Hong Kong attractive? Oswald Chan reports in Hong Kong.
Hong Kong has invested HK$130 billion ($16.6 billion) since 2017 to promote I&T development, yet the reindustrialization push contributed only 1 percent to the city's 2020 gross domestic product (GDP). The ratio of research and development (R&D) to GDP was 0.97 percent in 2021, trailing the policy target of 1.5 percent set by the fifth-term Hong Kong Special Administrative Region government (2017-22). The public/private ratio of R&D expenditures was 58-to-42 in 2020, driven primarily by public finance, not the private sector.
In Singapore, South Korea and Taiwan, manufacturing accounted for 20 to 32 percent of GDP in 2020, but that is not all advanced inno-manufacturing. In December 2022, the HKSAR reviewed its I&T strategies. The new Hong Kong Innovation and Technology Development Blueprint sets out eight major strategies under four broad development directions.
I&T value chain weak
"The blueprint recognizes Hong Kong's weaknesses across the entire I&T value chain: insufficient R&D outcomes, lack of venture financing for long investment cycles, and rigid management regimes and intellectual property (IP) structures of universities," says Kenny Shui Chi-wai, vice-president and co-head of research at Our Hong Kong Foundation.
Tang Heiwai, economics professor at HKU Business School and associate director of the Hong Kong Institute of Economics & Business Strategy, says the blueprint expresses key performance indicators (KPIs) for the I&T industry development, but the government needs to provide a concrete road map.
"I expect more consultation papers on the technical aspects, and research on how Hong Kong can bolster cooperation with other Guangdong-Hong Kong-Macao Greater Bay Area cities," adds the HKU professor.
VC funds hesitate
Private equity invests in or acquires mature companies, whereas venture capital invests in startups and small businesses with long-term growth potential.
Inovo Robotics is a local technology startup that designs modular robotics arms for repetitive, hazardous, or precise tasks in manufacturing, research, and education. Co-founder Jonathan Cheung Gee-chung says that since the 2020 COVID-19 pandemic, startups and midsize technology companies are not seeing opportunities except in meditech and COVID-19-related solutions.
In commercializing advanced inno-manufacturing, Hong Kong needs to tap the mainland scale. "The Hong Kong market is too small to sustain a significant I&T industry. Connections and incentives to enter the Greater Bay Area market need the facilitation of government at the policy level. The government's role should not only be for direct funding," adds Cheung.
Cheung suggests setting annual I&T fund deployment targets for the Strategic Tech Fund and GBA Investment Fund. OHKF's Shui recommends the government make good use of the funds under the Hong Kong Investment Corp and offer investment incentives to attract strategic enterprises to Hong Kong.
The administration targets R&D expenditure at 2 percent of the city's GDP on 2030 projections. The innovation-manufacturing sector is expected to contribute 5 percent of the city's GDP in the same period with about 7,000 startups and 30 unicorns to be nurtured. There were 3,985 startups in Hong Kong in 2022.
"Only when the number of startups reaches that scale (7,000) will it attract sufficient venture capital funding," says Hong Kong Science & Technology Parks Corp (HKSTP) Chairman Sunny Chai Ngai-chiu.
HKSTP CEO Albert Wong Hak-keung agrees. "The number of startups and research professionals has to register a huge increase for Hong Kong to qualify as a global I&T hub," he says.
Expertise starved
Talent and skilled graduates are low compared with two to three years ago, according to Inovo Robotics' Cheung. Hong Kong is struggling to attract overseas talent in the I&T sector after the COVID-19 lockdowns and social disruptions.
A drastic curtailment of work-permit approvals from 2019 disadvantages applicants from the US, UK, and Australia, with an average 77.5 percent decline in approved work-visa applications. That sends the wrong message to the international talent pool.
The Expat City Ranking 2022 ranked Hong Kong near the bottom, at 46th out of 50 expat destination cities, due to a perceived low quality of life, high rent, and high cost of living.
Mainland talent is also disenchanted with the tiny flats and exorbitant rents of Hong Kong. Our Hong Kong Foundation's 2022 survey recorded 60 percent wishing to leave within five years, after they gain international experience. Besides, there is domestic demand for I&T expertise within the mainland's own strategy.
Patent value share
Hong Kong needs to foster university technology transfers, says Shui. "The patent ownership and royalty distribution systems should be attractive to inventors, allowing them a higher share of the patent royalty earned by the university."
The OHKF researcher adds that tax policy also needs a review. "The government can consider Singapore's tax-free schemes for leading enterprises, and Australia's tax rebates for technology company R&D expenditures."
Shui urges the city government to consider the cost of rent and land sales for leading enterprises, as that would encourage investment in R&D offices and laboratories.
Specific X-border agreements
Tang from HKU Business School recommends the Hong Kong SAR government sign agreements with municipal governments in the Greater Bay Area. "Agreements should be specific to complement Hong Kong's I&T strengths with the strengths of Shenzhen, Guangzhou and Dongguan."
"The government should differentiate Hong Kong's strengths in I&T and also be aware of the competitive advantages of others, to position the HKSAR optimally," Tang says.
For easing cross-border flow of innovation, Shui suggests reviewing of mainland's "negative list" for locally owned companies in the Hong Kong-Shenzhen Innovation and Technology Park (Lok Ma Chau Loop). The negative list restricts market access to sectors like genetic testing and therapies, for foreign entities — including Hong Kong.
He recommends the mainland ease restrictions on cross-border data flow by making the Lok Ma Chau Loop the pilot zone for wider data sharing, with appropriate data desensitization and security measures.
Complementarity the key
Tang says the Hong Kong SAR should complement the innovation ecosystem in the Greater Bay Area to plan for advanced manufacturing here. "Hong Kong can find a role in the upstream, midstream and downstream of the ecosystem by cultivating capacity to support basic testing, prototyping, and small-batch production," the economics professor says.
Shenzhen has a niche position in electric-car production. Hong Kong can participate in the entire value-chain of electric-car production through capabilities in applied research, and small-batch production, in electric-vehicle parts and components, Tang says.
The Chinese Manufacturers' Association of Hong Kong (CMA) and the Federation of Hong Kong Industries (FHKI) concur. The development of the I&T industry does not just concern technology startups but the entire manufacturing industry. The fusion of innovation and manufacturing to become "innofacturing" — the top of the entire value chain — is the sweet spot Hong Kong should target.
The HKSTP's Chai, who also is chairman of the FHKI, emphasizes that Hong Kong must strengthen the complementary relationship among three pillars — research, innofacturing and finance — to fortify the value chain of advanced manufacturing in the city. "When compared to other cities in the Greater Bay Area, Hong Kong's downstream manufacturing capability is not strong enough to sustain the industry's long-term development," he said.
"The process of transforming innovative ideas into products during the R&D stage is only the first step. The repositioning of HKSTP's three industrial estates as INNOPARKs would be the second step of fostering small batch production and testing in Hong Kong," he added.
"The third step is to expand Hong Kong's I&T ecosystem into the Greater Bay Area, merging upstream and downstream industries. A value-adding chain that covers the upstream, midstream and downstream processes will form."
He regards it important for "the government to explore with mainland authorities how to promote cross-boundary flow of capital, personnel, data and materials".
HKSTP upgrades
The CMA, together with the FHKI, urges the HKSAR and the city of Shenzhen to build a pilot plant platform in Hong Kong's planned Northern Metropolis to raise the success rate of local R&D. CMA advocates a "government-industry-university-research" mechanism to facilitate the integration of research and production in Hong Kong.
While pursuing the "Innofacturing Tomorrow" strategy, HKSTP's next step is to complete the Hong Kong Science Park's first-phase expansion by 2025 and explore the construction of a second advanced manufacturing center at the Tai Po INNOPARK.
HKSTP already operates the precision manufacturing center and medical accessory resilience supplies (MARS) manufacturing center at the Tai Po INNOPARK, as well as the data technology hub and the first advanced manufacturing center at the Tseung Kwan O INNOPARK. The microelectronics center in the Yuen Long INNOPARK is scheduled to open this year.
HKSTP Shenzhen Branch will establish incubation networks in the city-cluster area to facilitate "attracting in and expanding out", plus cross-boundary I&T collaboration.
HKSTP and Cyberport are the two public institutions promoting the I&T industry. HKSTP has an I&T base with 12,000 research personnel, over 1,200 startups, and facilitated over 260 investment deals that raised over HK$80.2 billion in the past five years. Cyberport cements an I&T ecosystem with over 1,900 startups and technology companies. The Cyberport Macro Fund has injected HK$170 million into 23 startups, and attracted over HK$1.55 billion in co-investments.
Global tech stresses
Escalating Sino-American friction, including trade disputes and geopolitical disagreements, have prompted China to accelerate self-reliant I&T development. The 14th Five-Year Plan (2021-25), in March 2021, sets the vision for innovative science and technology.
Hong Kong's upstream basic research capabilities, rule of law, intellectual property protection, initial public offerings, venture capital financing, professional expertise, and proximity to mainland and ASEAN (Association of Southeast Asian Nations) markets are factors to leverage the city as a global I&T hub.
In 2022, at the 25th anniversary of the HKSAR, President Xi Jinping visited the HKSTP, reaffirming central government support to develop Hong Kong as an international I&T center.
The HKSAR government first highlighted reindustrialization in the 2016 Policy Address to reengineer the city's economy for I&T leadership.
WHAT'S NEXT
1. Integrate I&T components for the upstream, midstream and downstream value chain
2. Complement the GBA innovation ecosystem to integrate the advanced manufacturing sector in HK
3. Review policies in tech-transfer, tax, and land, to attract I&T investment and facilitate cross-border data flows
4. Bridge the financing needs for I&T by incentivizing the private sector
5. Retain and attract top talent by making HK desirable as an I&T global hub and professional destination