The Yellow River's winding tale of ecological protection, development
Share - WeChat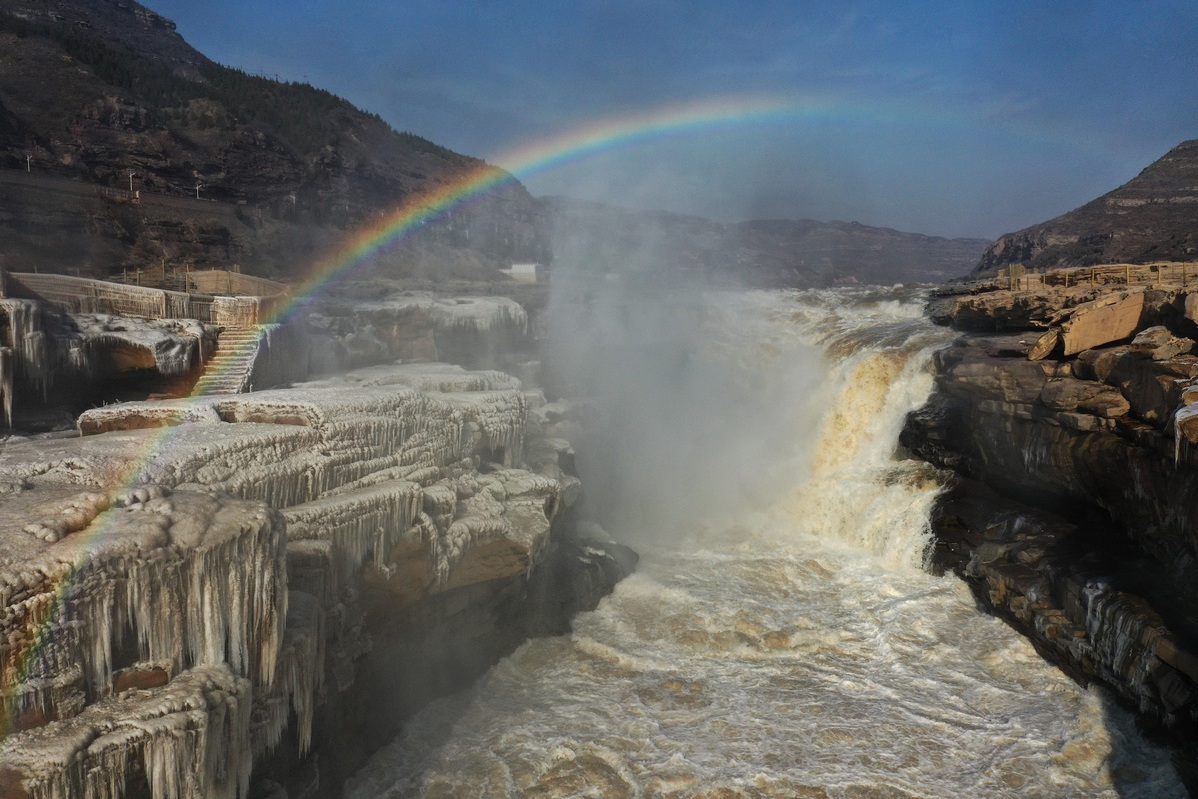 TAIYUAN/JINAN -- How long does it take for a little sapling to grow into a big tree, and how many trees are needed to make a forest? Zhang Zhisong, 70, has spent the past six years finding out the answers.
Hailing from Ruicheng county, North China's Shanxi province, Zhang was born and grew up near the Yellow River, China's second-longest waterway. Aside from farm work, he has another important mission -- planting trees on the river banks.
Recognizing that trees are a key component of a healthy river, Zhang is one of many forest rangers hired by the county government to plant and protect trees along the Yellow River. Every year, he can earn over 20,000 yuan (about $2,900) in extra income from the job.
He still recalls the old days of living near the river. "When I was a kid, there were few trees, and we were hit by sandstorms every spring," Zhang recalled. "Now that we have more trees, the sandstorms have almost disappeared over the past decade."
His confidence in the future received a boost when he learned that the Yellow River Protection Law came into effect on Saturday, having been adopted in October 2022.
As China's second piece of legislation on a specific river basin after the Yangtze River Protection Law, the new law targets key problems of the Yellow River basin, including water shortages, ecological fragility and flooding.
The law will strengthen legal protection for the ecological conservation and high-quality development of the Yellow River basin, said Zu Leiming, director of the Yellow River Conservancy Commission of the Ministry of Water Resources.
"GREENING" THE RIVER
The Yellow River, known as China's "mother river" and the cradle of Chinese civilization, flows about 5,464 kilometers through nine provincial-level regions. It supplies water to 12 percent of China's population and irrigates 17 percent of the country's arable land.
As the old saying goes, "When the Yellow River is harnessed, China will enjoy the tranquility." Since ancient times, Chinese people have struggled against the flooding of the Yellow River, and conservation of the river has always been high on the country's agenda.
Every morning at around 7:00 am, Zhang starts his daily work along the river, carrying shovels and water tanks. So far this year, the 10-person team he belongs to has planted more than 10,000 trees. Countywide, a total area of 11,000 mu (about 733 hectares) of forest was added in 2022.
Zhang's endeavor is a reflection of China's efforts to protect the Yellow River basin, which was once plagued by soil erosion but has seen steady progress in rebuilding its ecological environment.
Thanks in part to increased afforestation, the basin's soil and water conservation rate increased from 41.49 percent in 1990 to 66.94 percent in 2020, and then to 67.37 percent in 2021.
In the city of Dongying, East China's Shandong province, where the river meets the sea, flocks of migratory birds soar over the Yellow River delta national nature reserve during springtime.
In recent years, Dongying has implemented a dozen ecological restoration projects mainly focused on connecting water systems. Over the past three years, the city provided 469 million cubic meters of water to the reserve, effectively alleviating soil salinization and improving the wetland's ecological functions.
Thanks to wetland restoration efforts, the number of bird species in the delta nature reserve has almost doubled from 187 in 1992 to over 370 today.
"We will work with relevant departments to build a biodiversity data platform for the Yellow River delta and continue to promote wetland restoration to improve the breeding and habitat environments for rare bird species," said Chen Yunlong, director of the municipal bureau of ecology and environment.
EFFECTIVE WATER GOVERNANCE
The Yellow River Protection Law emphasizes conservation in water resource utilization. In fact, in Shandong's Ningjin county, measures have been taken to encourage farmers to save water. The price of any water used beyond a certain limit has been raised, while rewards have been implemented for using less.
"In the past, we used a lot of water in irrigation," said Wang Meng, a farmer from Ningjin. According to Wang, whenever they watered the crops, they would let flow more than 70 cu m of water per mu of land.
Now they are able to save around 25 cu m per mu each year. This means that an average of 20 million cu m of water has been saved in total, which is enough to meet the daily living needs of the entire county of 480,000 people for two years.
Wang himself received 5,000 yuan last year for water conservation. "Now everyone is trying their best to save water," he said.
Persevering in the protection of water resources, China has improved its water governance capacity by balancing economy and environment.
While the Chinese economy has maintained steady growth, the country's annual water consumption has remained below 610 billion cu m for years. In 2022, its water use per 10,000 yuan of GDP dropped 46.5 percent from 2012, while its water use per 10,000 yuan of industrial added value fell 60.4 percent.
According to Yu Qiyang, an official with the Ministry of Water Resources, to effectively implement the Yellow River Protection Law, efforts should be made in fields involving ecological protection and restoration, conservation and the effective usage of water resources, flood control, high-quality development of the Yellow River basin, as well as inheritance and promotion of the Yellow River culture.
Currently, Zhang Zhisong and other local forest rangers are planting ornamental vegetation, such as flowering shrubs and oriental plane trees, along a tourist highway that winds along the Yellow River. The highway will open soon, emerging as a new attraction for visitors.
"Now that the environment has improved and we have become more accessible by various roads, I believe we'll have a better life in the future," Zhang said.