Key concept changes global thinking on ties
Share - WeChat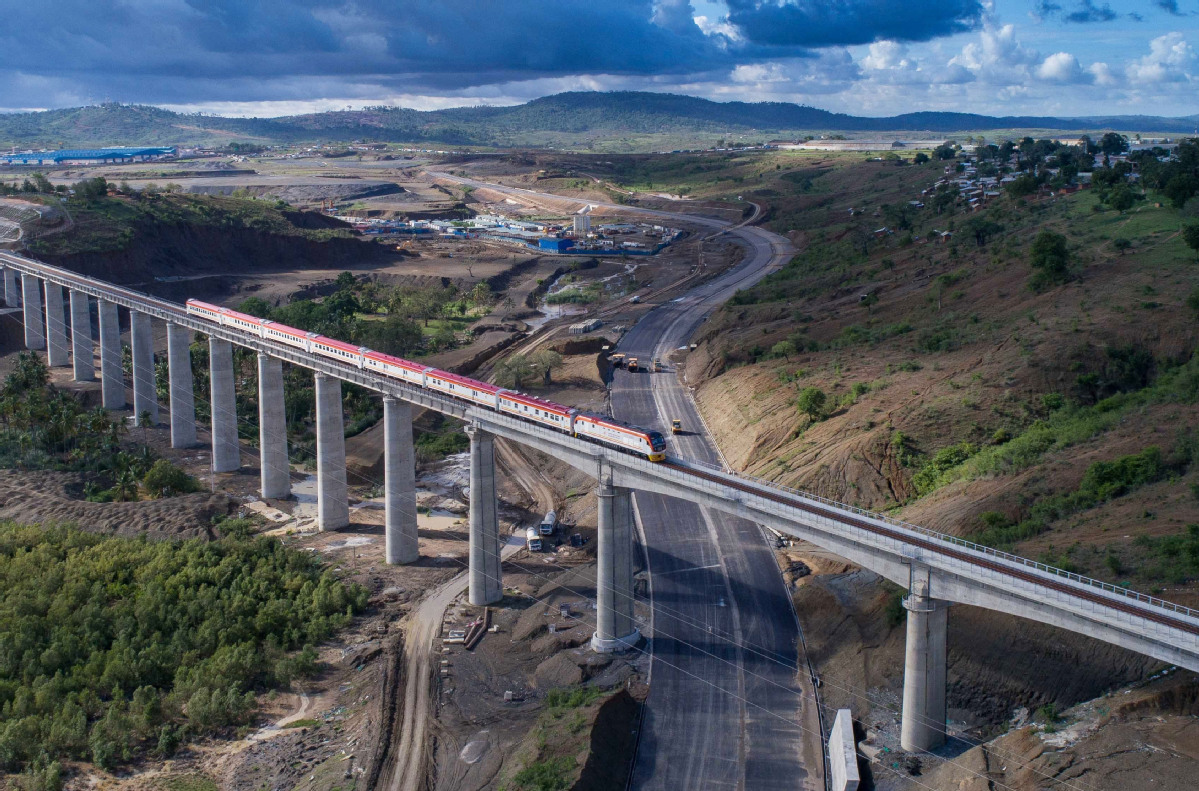 10 years on, vision of building a shared future for mankind widely acknowledged
Over the past decade, President Xi Jinping's vision of building a community with a shared future for mankind has been a key phrase in China's foreign policy, and won broad international support due to its advocating of peace, development and cooperation.
Through various contributions to international public good, such as the Belt and Road Initiative, China has made all-around efforts to work with the international community to translate this vision into reality in order to build a better world.
Ten years after its inception, the BRI has galvanized nearly $1 trillion of investment worldwide, created more than 3,000 cooperation projects and 420,000 jobs, and helped lift almost 40 million people out of poverty, according to the Foreign Ministry.
Maryam Raza, deputy director of the Islamabad-based Pakistan Research Center for a Community with a Shared Future, said that the vision of building a community with a shared future has brought positive changes in international relations amid the transformation of global socioeconomic and political dynamics. The vision is committed to a rational, coordinated and balanced approach which covers major aspects of state-to-state relations, Raza said.
Xi, who is also general secretary of the Communist Party of China Central Committee, proposed the vision of building a community with a shared future during a speech at the Moscow State Institute of International Relations in Russia on March 23, 2013.
It envisions countries forging partnerships in which they treat each other as equals, engage in consultations and have mutual understanding, and create a security architecture that features fairness, justice, joint contributions and shared benefits.
In the following years, the vision has been increasingly accepted worldwide. In February 2017, the phrase was incorporated into a United Nations resolution by the 55th UN Commission for Social Development. It has also been adopted by the UN Security Council, the Human Rights Council and the First Committee of the UN General Assembly, earning the Chinese concept wider international recognition.
As the COVID-19 pandemic cast a shadow over the world economy and growing geopolitical competition thwarted global security and stability, Xi also proposed the Global Development Initiative, the Global Security Initiative and the Global Civilization Initiative. The three initiatives helped inject fresh momentum into the international efforts to build a community with a shared future for mankind.
The concept of a community with a shared future for mankind has emerged as a new vision for global governance, said Giga Kikoria, an assistant professor in the Business School of Alte University in Tbilisi, Georgia.
"At its core, this concept emphasizes the need for countries to work together in pursuit of common goals, rather than pursuing narrow self-interest and competing for power and resources."
As a result of China's growing role in the international community, some forces in Western countries have sought to cast this in a negative light by using terms such as the "China threat" or resorting to phrases like "wolf warrior diplomacy".
Observers said this so-called wolf warrior diplomacy tag is nothing but a "narrative trap" created by Western countries to mislead the world with their hidden agenda.
China's diplomacy, guided by Xi's vision of building a community with a shared future for mankind, calls for equality, mutual respect and benefits and win-win cooperation among nations, and helps address the common challenges facing humanity.
Su Xiaohui, an associate research fellow at the China Institute of International Studies in Beijing, said that the "fighting spirit" expressed in China's diplomacy in recent years highlights the need to resolutely safeguard national sovereignty, security and development interests.
When it comes to the word "fight", the drastic changes to the external environment China faces in its development should be taken into account, she said. "When some individual countries try every means to contain and suppress China, stoke ideological confrontation and undermine the nation's interests with unilateral sanctions, its countermeasures are necessary and legitimate," Su said.
China is not aggressive in its foreign relations, Su said. Instead, it wants to coexist harmoniously with neighboring countries, develop stable relations with major nations, make more friends around the globe, and advance international cooperation to make the world a better place.
Speaking at a news conference in Beijing earlier this month, State Councilor and Foreign Minister Qin Gang said that China's diplomacy has no shortage of goodwill and kindness. "But if faced with jackals or wolves, Chinese diplomats would have no choice but to confront them head-on and protect our motherland," Qin said.
The recent reconciliation between Iran and Saudi Arabia, which had a rocky relationship with long-standing tensions, is a good example of China's diplomacy in contributing to regional and international peace and development.
Peace between Saudi Arabia and Iran, through China's mediation, is not only a successful practice of Beijing's diplomatic principles, but an example of the country's responsible international image gaining acceptance in the Middle East, said Wang Jin, an associate professor at the Institute of Middle East Studies at Northwest University.