Young workers forsaking big-city life
Share - WeChat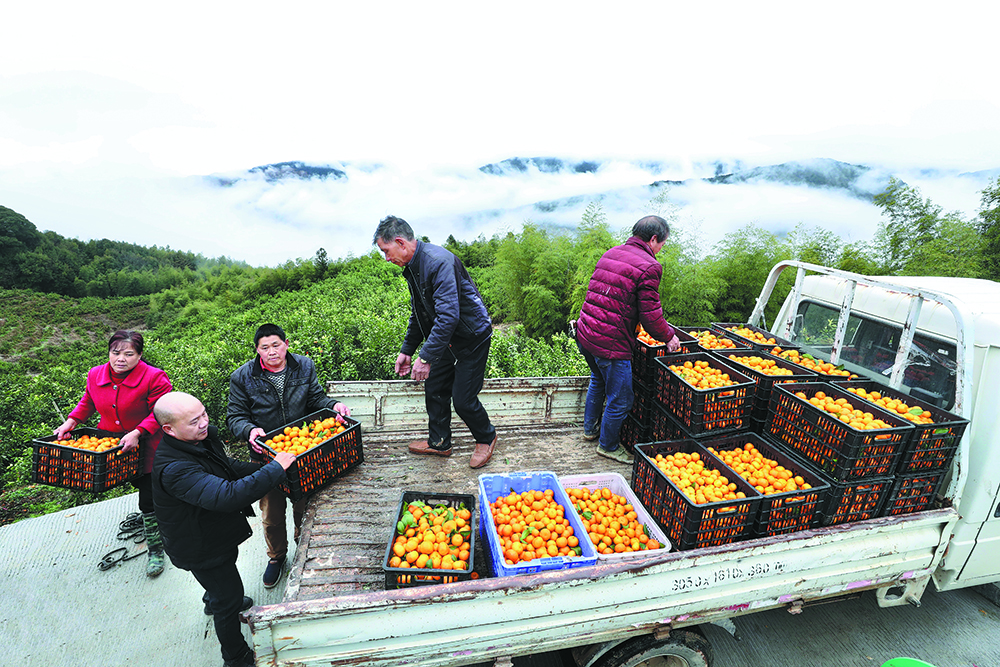 More and more youths return to hometowns to find jobs, start businesses
Many young people employed in large Chinese cities are tiring of the culture known as"996", which means they are expected to work from 9 am to 9 pm six days a week.
Instead, they are increasingly choosing to return to their hometowns to find a job or start their own businesses.
One such example is Long Jixiang, 32, who in early 2018 decided to leave Beijing to head back to Baoting, a small county in the island province of Hainan.
For the past five years, Long has produced and posted short videos online of clothing he has designed. He draws inspiration for his designs from nature and rural life.
In the videos, Long and his fellow villagers walk country paths wearing the clothes he has made from curtains, tarpaulins, bed sheets and even plastic bags.
"In Beijing, I worked as a photography assistant, before becoming an assistant stylist and event planner. I started from scratch, as I didn't have any professional background in the fashion industry, but I was full of enthusiasm for the business," he said.
Long added that during his time in Beijing he experienced hardships at work and in his personal life.
"I initially took unpaid work to access the fashion industry, before landing a job that paid 3,000 yuan ($430) per month, but life in the capital on such a low salary was difficult," he said.
However, he said these difficulties reinforced his decision to become a self-employed fashion designer and online short-video blogger after he returned home.
"My parents were surprised when I decided to give up a steady job in Beijing to become a blogger in a small county. At the time, they had no idea about fashion or being a fashion blogger," Long said.
"It's important that I know my good and bad points, and the type of life I really want to lead, no matter where I live or work. People might have had more opportunities in big cities in the past, but in the internet era, the countryside offers young people attractive options."
Long has a total of about 1 million followers on platforms such as Sina Weibo and Douyin.
"I've recently been inspired by the traditional dress worn by members of the Li ethnic group in Hainan. For one video, I invited my grandmother to model clothes, and this footage received a good response from my followers," he said.
Long has invited 100 people from the countryside — regardless of their age or appearance — to wear and model the clothes he has designed.
"Traditionally, fashion is closely associated with luxury items, but I've never had any designer clothes, and I don't need them. I appreciate a diverse range of clothes that are beautiful and innovative, and which can be worn by young people and also villagers such as grandmother," Long said.
"I was born and raised in the countryside, which gives me inspiration. I've seen how well the rural economy and tourism have developed in recent years, and through my efforts, I hope to promote my hometown's development."
Unlike Long, Wang Jieling, 35, is still hesitating over whether she should quit her job as an advertising planner in Beijing to run a homestay business in her hometown.
"I started to think about returning home in 2019, when my daughter was born. At the time, I was finding it hard to balance home life and work. However, my plans to return home were delayed by the emergence of COVID-19 in 2020," she said.
Wang, who comes from Huangshan city, Anhui province, is extremely positive about her hometown's development.
"It's a popular tourism destination, with impressive views of the city from the mountains. There is also the delicious Hui cuisine. As China optimized its COVID-19 control policy earlier this year, the tourism market in Huangshan will soon fully recover, so running a homestay is a good choice," she said.
Wang said another important reason for quitting her job in Beijing is the exhausting work schedule.
"I usually work overtime until midnight, and having a complete weekend off is a luxury for me. I spend my days and evenings putting together advertising campaigns to satisfy my clients," she added.
"I experienced anxiety disorders in the past three years, as I had to work harder to keep my job at a time when the employment market and economy were not that good due to the epidemic.
"The more time I spend at work, the less time I have with my young daughter. I don't want to miss any important occasions in her life, such as when she first calls me 'Mama', or starts to walk. I've already missed many such moments through my work."
Wang added that she will think about her future this year. "My husband and I hesitated some years ago, as we didn't have that much money to support our dream of running a homestay, but if we decide to return home for a new start, we plan to sell the apartment we bought in Beijing," she said.
More employees are now willing to return home from big cities to find work and lead a life with less pressure.
According to a recent survey by the online recruitment platform Zhaopin, 90 percent of respondents wanted a "more reasonable "career, and said there is no shame attached to returning home to find work.
The platform did not disclose the number of people interviewed for the survey, but some 56 percent said they had decided to return home after they graduated, while 44 percent preferred to stay in big cities to develop their careers.
Zhaopin said that thanks to local authorities relaxing restrictions on recruiting civil servants, and attractive support policies for entrepreneurship, those who return home mainly become grassroots civil servants or decide to launch a business.
According to the platform, some 75 percent of civil service positions nationwide this year have been allocated at grassroots level, a year-on-year rise of 5 percentage points.