Deputy champions preserving ethnic cultures
Share - WeChat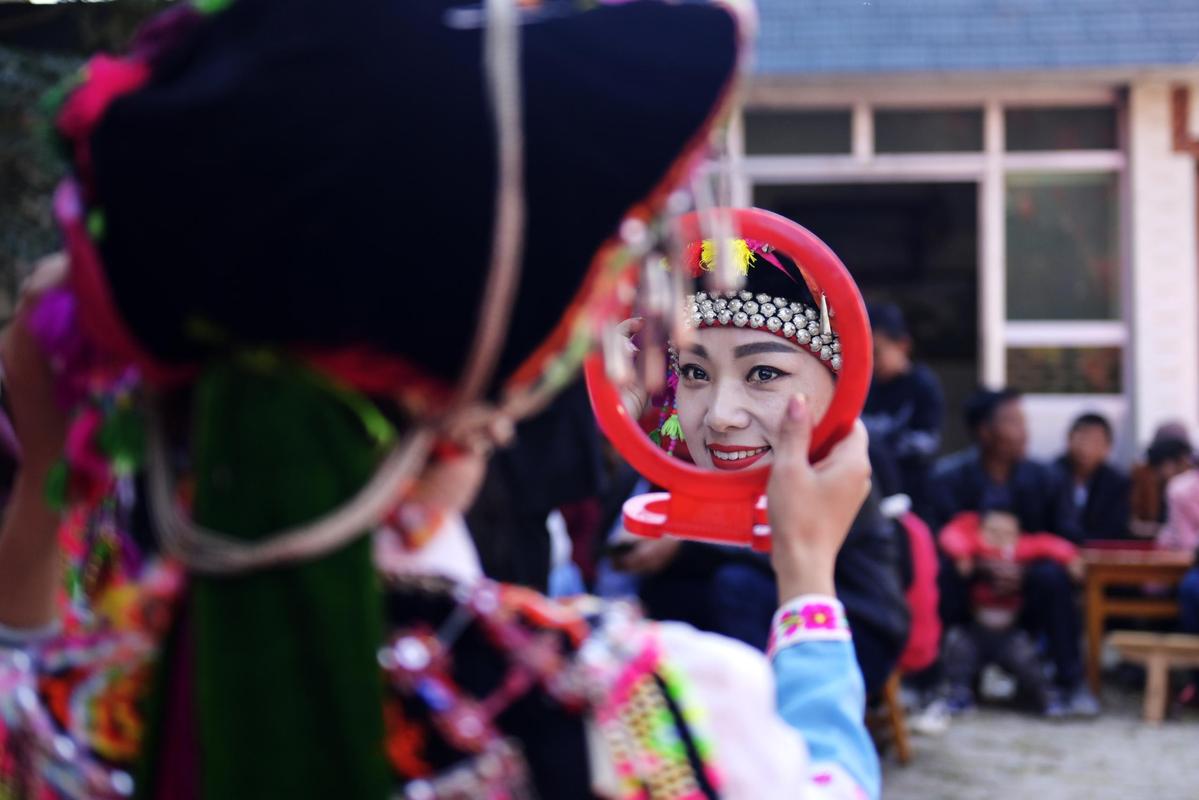 Folk songs and dances are an integral part of life for Lu Lihua, a deputy to the 14th National People's Congress who has been learning folk dances and songs since she was a child and is devoted to helping more people learn traditional national cultures.
A member of the Yi ethnic group, the 35-year-old is a native of Nanjian Yi autonomous county in Dali Bai autonomous prefecture, Yunnan province, and her hometown is a trove of Yi songs and dances.
Lu has learned folk songs and dances listed as national-level intangible Yi cultural heritage, including Dage — a traditional folk song — mountain songs and Tiaocai (a dance based on serving food) from her elders.
In 2006, she moved to Kunming, the capital of Yunnan, to study the songs and dances of many ethnic groups. She returned to her hometown in 2011 to become a performer for Nanjian's ethnic culture working team and to work on preserving and passing on intangible cultural heritage and grassroots cultural arts.
In 2016, she was recognized as a representative inheritor of Yi Dage and Yi mountain songs by the Nanjian government, and in 2020, she was named a representative inheritor of Yi mountain songs by the Dali government.
She has also taken part in numerous folk song and dance competitions and has won various awards since 2015. Lu said that Dali is an open and inclusive city, with a rich and diverse culture as it is home to many different ethnic groups.
She said she considers it the cultural capital of East Asia. Dali has 719 intangible cultural heritage protection projects, 18 at the national level, making it even more attractive.
"My friends and I are working together to bring the folk songs to the national stage so that more people get to know the ethnic culture," she said.
In 2012, Dali began a pilot program to turn the city into a culture and ecology protection zone. Last month, it was officially designated as a national-class Dali Culture and Ecological Protection Zone by the central government.
Things protected in the zone cover all kinds of intangible cultural heritage items, including those that reflect the diversity and uniqueness of Dali's ethnic culture, traditional historical culture and natural attractions closely related to intangible cultural heritage.
"After over a decade of efforts, there have been remarkable results in the protection of culture and the environment. Last year, Nanjian held an intangible cultural heritage performance and exhibition, which was viewed by over 200,000 people online, and many local residents also earned more money as a result," she said.
"As a front-line performer working in the field of ethnic folk art protection, I believe that we should focus on grassroots efforts to discover and preserve surviving forms of ethnic culture. I will use my abilities and knowledge to participate in inheritance and promotion activities," she added.
"The pattern of social development has changed greatly. While pursuing economic development, we should also pay more attention to environmental protection. A well-protected environment will in turn attract more tourists and promote the sustainable development of local culture and tourism."
Recently, a popular television series Meet Yourself, a love story starring Liu Yifei and Li Xian filmed in Dali and featuring its beautiful scenery, attracted many tourists from all over the country to the city and boosted local culture and tourism.
Moreover, Lu said long-term efforts made by the government and Dali residents to protect the environment have improved the scenery.
"While pursuing economic development, we also need to pay more attention to environmental protection. A well-protected environment will in turn attract more tourists and promote the sustainable development of the local culture and tourism industries," Lu said.
In her first year as an NPC deputy, Lu also made suggestions to the NPC on increasing support for ethnic cultural development and on promoting the development of national environmental zones and demonstration zones for the creation of "ecological civilization".