China's sci-fi industry develops at warp speed
Share - WeChat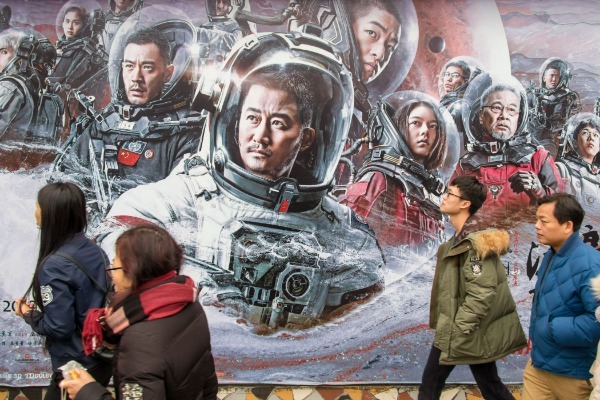 Science fiction is buzzing in China, with industrial pursuits around the genre raking in a total revenue of 82.96 billion yuan ($12.07 billion) in 2021, a year-on-year increase of 50.5 percent, according to the 2022 China Science Fiction Industry Report published on Saturday by the China Science Fiction Research Center and the Southern University of Science and Technology.
Sci-fi gaming contributed most significantly to the industry's 2021 revenue at 67 billion yuan, while sci-fi-related merchandise saw the highest revenue growth, increasing over 186 percent from 2.12 billion yuan in 2020 to 6.07 billion yuan in 2021, the report said.
Revenues for sci-fi movies and literature were 7.19 billion yuan and 2.7 billion yuan, respectively. A notable development in sci-fi in China has been the rise of digital and audiobooks and sci-fi tourism.
Science fiction has long captured the imaginations of readers, moviegoers and gamers alike with its ability to transport audiences to strange new worlds, explore the possibilities of the future and grapple with the complexities of the human condition.
In recent years, sci-fi in China has witnessed booming growth, thanks to Chinese writers such as Liu Cixin and Hao Jingfang receiving international acclaim and the sci-fi blockbuster Wandering Earth becoming China's fifth highest-grossing film of all time.
Wang Ting, director of the China Science Fiction Research Center, said the massive popularity of the recent Wandering Earth II and television series The Three-Body Problem have bolstered public awareness and confidence in the development of sci-fi in China.
The center will continue to facilitate theoretical research, talent training and international exchanges in science fiction, thus contributing to the industry's healthy progress, Wang said.
Wu Yan, a professor from the Southern University of Science and Technology, said 2016 to 2020 were the "golden years" of China's sci-fi development, characterized by a rapid rise in total revenue from 10 billion yuan to 55.1 billion yuan and a growing sci-fi literature industry.
Due to the COVID-19 epidemic, China's movie industry, including the sci-fi genre, saw a massive decline in 2020. However, thanks to the launch of new sci-fi-related policies, awards and shows, coupled with the rising popularity of the metaverse, China's sci-fi industry saw new opportunities and a resurgence in the last couple of years, he added.
In 2020, the China Association for Science and Technology and China Film Administration issued a guideline aimed at fostering the growth of the domestic science fiction movie industry.
In 2021, the State Council, China's Cabinet, published the National Action Plan for Scientific Literacy 2021 to 2035, which stated that science fiction is a crucial method for promoting scientific innovation, literacy and culture.
"I believe the future of China's sci-fi industry will be brighter than ever," Wu said.