Shaping tomorrow
Share - WeChat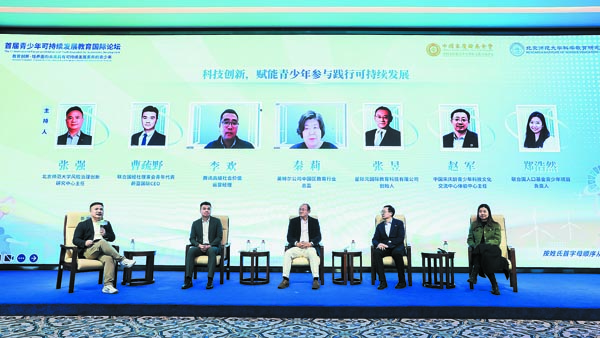 Forum on children and youth focuses on educating students for a sustainable future, Xing Wen reports.
Inspiring students to play their respective social roles and participate in various activities could help translate the ideas of sustainable development into voluntary action for youth, said Zhang Ruige, deputy director of the China Soong Ching Ling Science and Culture Center for Young People at a recent forum.
The First International Forum on Children and Youth Education for Sustainable Development, held by the center, invited around 300 experts in education from China and other countries such as the United States, the United Kingdom, Japan and Iran to discuss how to empower younger generations with competency for sustainable development for the future. The two-day event wrapped up on Jan 17.
Roundtables were also held during the forum for leaders of primary and middle schools to discuss such topics as how to construct a green, low-carbon campus and integrate ideas of sustainable development into everyday teaching activities.
Zhang says China's education system has been looking at sustainable development, in such aspects as basic abilities, scientific knowledge, cultural exchanges, nature exploration and international vision.
"Our center will keep constructing an improved educational system for sustainable development and share China's lessons with the world," he says.
Most Popular