Huizhou heritage comes to life
Share - WeChat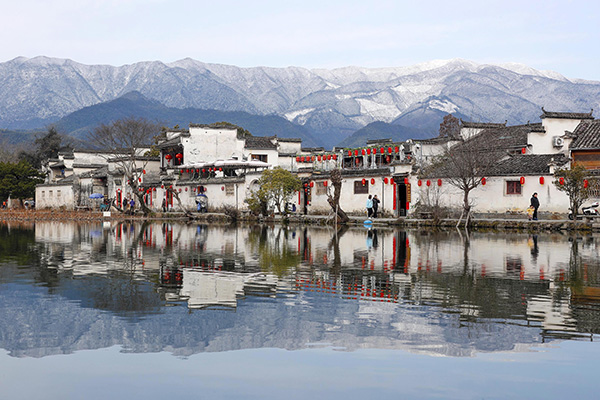 It was a natural choice for veteran Huang Yu, after serving in the army and owning a business in Hangzhou, Zhejiang province, for years, to go back to his hometown in Xidi village, Huangshan, Anhui province, in 2016. He took over the homestay his parents opened when he was a middle school student.
"I was born in 1986, the year when tourism started to develop in Xidi. I always feel proud as a local and want to make a contribution to the development of my hometown," says Huang.
In 2000, Xidi and the nearby Hongcun village were declared World Heritage sites by UNESCO for their outstanding preservation of rural architecture dating to the Ming (1368-1644) and Qing (1644-1911) dynasties.
Now, walking along the bluestone streets in Xidi or Hongcun, visitors can appreciate the distinctive Huizhou-style houses, featuring white walls, dark tiles and layered horse-head gables, and feel like they are immersed in a traditional Chinese ink painting.
This level of preservation could not be achieved without the participation of local residents. According to Huang, this awareness is not new — since all streets and alleys in Xidi are paved with bluestone, historically, street vendors carrying wares on shoulder poles were forbidden from letting their poles touch the ground in order to protect the bluestone.
A symbolic paifang, or traditional Chinese memorial arch structure, standing at the entrance to Xidi, was built in the 16th century in memory of Hu Wenguang, a Ming Dynasty official born in the village, who made a great contribution to improving people's education and livelihoods. It is preserved to this day because of people's desire to protect the local historical characteristics.
Most Popular