Success in the best possible taste
Share - WeChat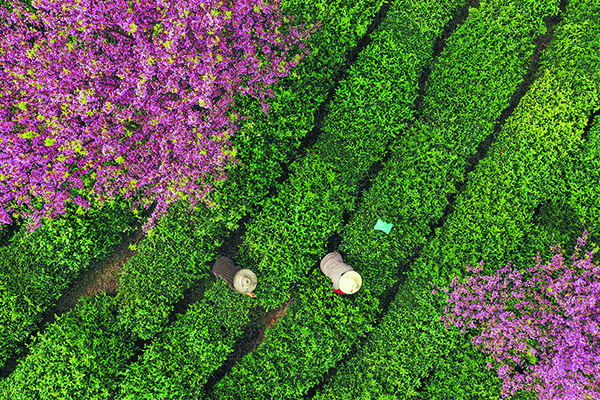 About 800 meters above sea level and next to the picturesque Taiping Lake, Houkeng village in Huangshan, a region in the south of Anhui province, seems to be blessed by nature and an ideal place to create an aromatic brew in typical Chinese style.
It is home for the handmade tea variety Taiping Kowkui (also spelt in pinyin as houkui). Every spring, when foggy days moisten the emerald hillsides, villagers know their harvest will come.
When Fang Jifan first followed his father to climb and pick the tea leaves in spring, he was only 6.
Now, 67, the fifth-generation tea farmer can proudly recall his life.
"Without any of three key factors — proper location, plant variety, or processing technique — the perfect Kowkui will not be born," he says. "It's a signature of our home."
Kowkui's exceptionally large leaves make many first-time viewers also mistake the tea as "vegetable", but this "king" of green tea in Fang's eyes beats other varieties on more than just size.
"Its aroma and flavor also stand out, thanks to the time-consuming work to process them," Fang says.
"It's a skill every child in our village will have to learn," he says. "There're about 500 families in the village, and each one makes tea."
As a leading tea processing practitioner in Houkeng village, Fang is now the national-level inheritor of intangible cultural heritage for Kowkui green tea processing technique.
Starting from a process known as shaqing (enzyme inactivation), a series of core skills, including fermentation and scenting, that need years of practice, help turn the fresh leaves into the ingredients of a refreshing drink.
Iron pots, and the right temperature, timing, and strength are all core to the success. People like Fang deftly fry the fresh tea leaves with bare hands. To ensure top quality, people have to make sure no leaf rolls when being heated.
After being created in the late Qing Dynasty (1644-1911), its high quality and relative rarity ensured Kowkui tea would be consumed as gifts among nobles. Even today, Kowkui enjoys a high market status.
In 2021, the average price of Kowkui was nearly 500 yuan ($71.7) per kilogram, and its processing techniques were still done by hand.
According to Fang, the popularity of tea has also played a key role in rural vitalization as Houkeng residents can earn 30,000 yuan a year growing and processing Kowkui, and some can make up to 300,000 yuan.
"But we still need to embrace change," Fang says. "We cannot only aim at the high-end market. Only when Kowkui is more widely accepted and recognized by more consumers, can its life be prolonged.
"New technologies and modern machines can be introduced to increase our yield of second-tier products and thus expand influence," Fang says, sharing his next-step plan. "But core hand skills have to be retained to make the top-quality tea."
Most Popular