US to blame for PLA drills around Taiwan
Share - WeChat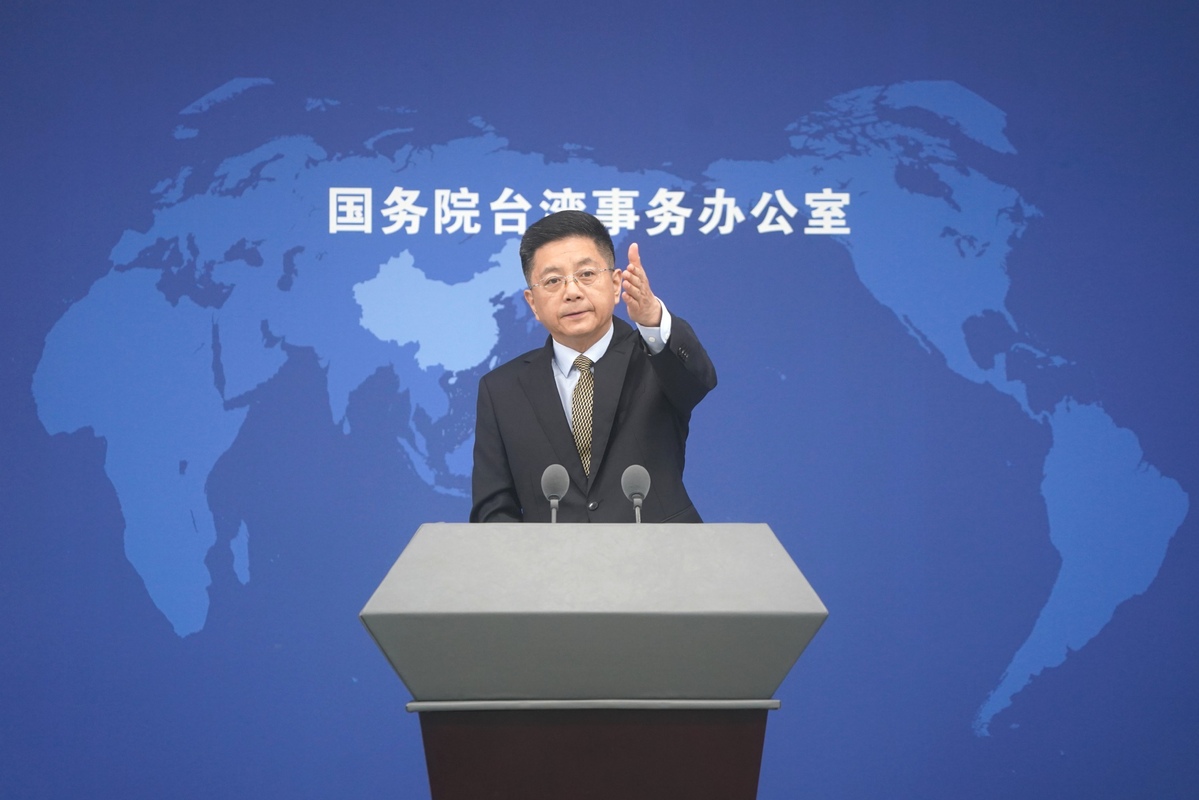 The frequent military aircraft exercises by the People's Liberation Army around the island of Taiwan are due to the rising military collusion between the United States and the island administration, a Chinese mainland spokesman said on Wednesday.
"The drills by the PLA sent a stern warning against the escalation of provocations by Taiwan and the US, which damaged peace and stability across the Taiwan Straits," Ma Xiaoguang, a spokesman for China's Taiwan Affairs Office, said on Wednesday at a news briefing in Beijing.
The remarks came after some recent provocative moves by the Democratic Progressive Party authorities in Taiwan, including military purchases from the US, the extension of compulsory military service to one year, and the promotion of kindergartens to teach how to distinguish the sound of artillery shells.
"Resolving the Taiwan question is a matter of the Chinese people, which allows no interference from others," Ma said, adding, "Any attempt to separate Taiwan from China is doomed to fail."
He also condemned a think tank in the US for exaggerating the "China threat theory" to make profits for military groups in the country, through a war game simulation of the "invasion" of the Taiwan island by the mainland.
The simulation by the Center for Strategic and International Studies predicted that if the PLA "invaded "Taiwan in 2026, it could result in heavy losses for parties likely to be involved, including the mainland, the US, Taiwan and Japan.
Ma said that some US think tanks have issued frequent reports on the Taiwan question and the situation across the Taiwan Straits under the guise of academic research.
By hyping up the "threat" from China, they help military industry groups in the US make profits and get more allies to join their attempt of containing the mainland with Taiwan, he said.
They also tried to create divisions between compatriots from the two sides of the Straits, he added.
Regarding such reports, Ma said the compatriots in Taiwan can make their own judgments and will not be misled.
Song Tao, head of the Taiwan Affairs Office, said Taiwan's young people should resolutely oppose separatism and efforts to achieve "Taiwan independence".
Song made the remarks on Tuesday while visiting 31 young people from Taiwan who are working or studying in Beijing.
He noted that they should recognize the serious harm such efforts could cause as well as the sinister intentions of foreign forces that are colluding with them.
Song said that youth on both sides of the Straits are critical in efforts to develop cross-Straits relations, promote the peaceful reunification of the motherland and rejuvenate the nation.
Compatriots on both sides of the Straits are eager to accelerate the resumption of personnel exchanges and promote cooperation, Song said.
He invited more Taiwan compatriots to visit the mainland and make joint efforts to develop cross-Straits relations.
"As long as family members visit each other more often, they get closer," he added.
zhangyi1@chinadaily.com.cn