Hebei doctors reach out to assist rural residents
Share - WeChat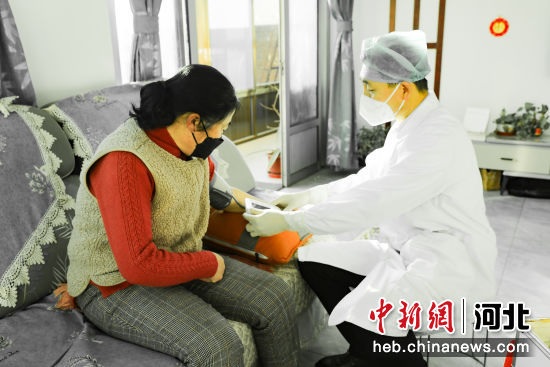 Thousands of rural doctors in the city of Baoding in North China's Hebei province have been mobilized to provide consultations in rural areas to catch and treat COVID-19 infections as early as possible, according to the city government.
"There are many elderly people with underlying diseases and it's not convenient for them to go out to see a doctor when they're not feeling well," said Yang Pengcheng, a doctor at a clinic in the village of Zhujiayu in Baoding's Quyang county.
Since early December, Yang and 11 other doctors have formed teams carrying out household consultations to regularly check up on those aged 65 and above so that they receive the appropriate treatment if infected with COVID-19.
"Doctor Yang visited me every day after I got infected and treated my persistent cough," said Wang Tiangang, a 72-year-old Zhujiayu resident with high blood pressure and diabetes.
The doctor would check his basic health condition, including his heart rate and oxygen saturation, and tell him when and how often to take medications, Wang said.
"I am greatly relieved by the doctor's care and attention because I was worried I would develop a more severe illness without knowing it," Wang said. He has since recovered from the infection.
Apart from providing medical consultations, the teams are also studying and reporting the health conditions of elderly patients to central health authorities so that transfers can be made if required, according to Liao Jihai, head of the community health department at the Baoding health bureau.
"Our teams have covered all the villages and communities in Baoding," he said.
The city has mobilized some 18,000 doctors into more than 5,000 medical service teams together with civil servants in villages and communities.
The teams provide door-to-door medical consultations to households in need, and services include spreading health awareness, psychological counseling, follow-up visits and delivery of medicine.
Similar measures are being taken in other places in Hebei, including in the cities of Langfang and Handan.
Top officials in Hebei have demanded that COVID-19 epidemic prevention and control work in rural areas be enhanced and that adequate medical resources be supplied, according to a meeting held at the end of December.
"As we cope with COVID-19, we will put the people and their lives above all else and try our best to protect their health," Liao said.