Carving out a specialty
Share - WeChat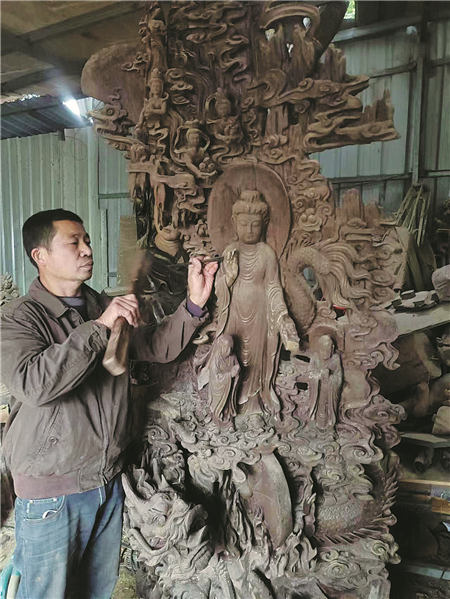 Craftsman shapes wood into various forms to make it seem alive, report Wang Ru and Hu Meidong in Fuzhou.
At the entrance to Tanbian village, Xianyou county, Fujian province, there is an old tree that has stood proudly for about 100 years. Under the tree there is a crudely built iron-sheet structure with its doorway often filled with sawdust. It is the studio of Wu Furong, a craftsman specializing in wood carving.
"What I carve are often large-sized works roughly three to five meters long, and I usually work for more than 10 hours every day. Therefore, I work in the studio so that the noise won't disturb neighbors," says Wu.
Now in his 50s, he has worked in this profession for more than three decades, and is a sophisticated craftsman who enjoys his work.
Xianyou is famous for its arts and crafts industry, which is a pillar of the local economy, and includes carving, painting, embroidery and lacquerware. According to statistics released by the Xianyou government, nearly 200,000 people are engaged in such businesses, creating an output of approximately 53 billion yuan ($7.7 billion) in 2021.
Among them, wood carving plays a significant role. Xianyou has a wood-carving history stretching back more than 1,000 years, and is known as "the capital" of the craft in China. Wood carving has been listed as a provincial-level intangible cultural heritage of Fujian.
Most Popular