China, Turkmenistan upgrade ties
Share - WeChat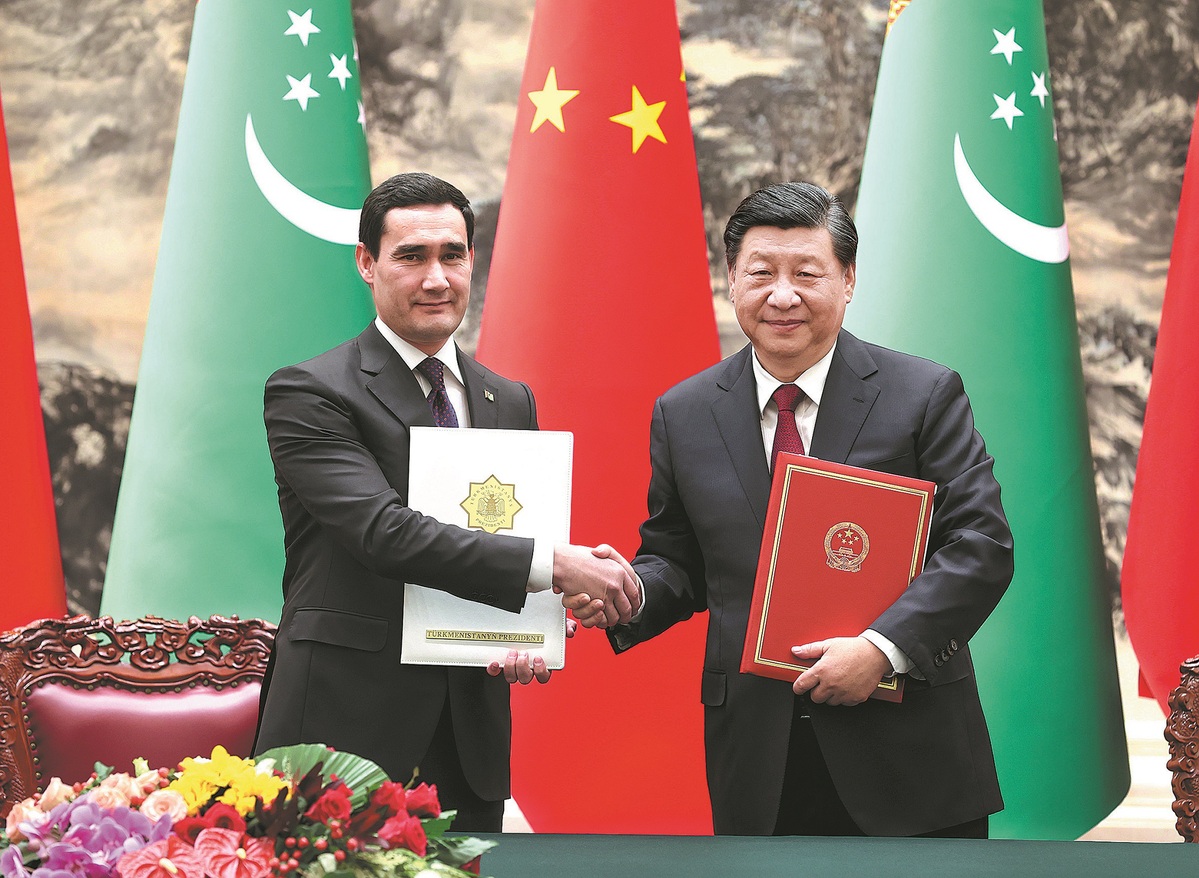 Nations agree to build community with shared future
China and Turkmenistan announced the elevation of bilateral ties to a comprehensive strategic partnership on Friday, with both sides pledging to boost all-round cooperation, support each other on issues related to their core interests and build a community with a shared future.
President Xi Jinping and Turkmen President Serdar Berdimuhamedov made the announcement in talks at the Great Hall of the People in Beijing. Berdimuhamedov was on a state visit to China from Thursday to Friday, his first visit to China since he took office last year.
The two presidents signed a joint statement, which said that during their meeting they exchanged views on bilateral ties, cooperation in various fields as well as the regional and international issues of common concern, and reached a broad consensus.
They also witnessed the signing of a series of cooperation documents in various fields, including natural gas, joint development of the Belt and Road, green development, the digital economy and health.
In their talks, the two presidents highlighted the huge potential and bright prospects of bilateral economic cooperation, particularly the importance of strengthening partnership in natural gas.
In terms of partnership in mutual connectivity, both sides pledged to advance cooperation in road transport and cross-border transportation.
Xi highlighted the similar values, goals and converging interests shared by the two nations, saying that they should work together in their respective paths toward rejuvenation, enhance their complementary strengths, explore further potential for cooperation and attain common growth.
The building of a China-Turkmenistan community with a shared future will further deepen pragmatic cooperation, accommodate each other's concerns and consolidate their traditional friendship, he said.
Xi called on the two nations to support each other on issues concerning their core interests, respect the development path they choose in accordance with their own national conditions, further align their development strategies and keep expanding and deepening cooperation.
He underlined the need for both sides to cooperate further on law enforcement and biosecurity, jointly combat terrorism, separatism and extremism, and build up the security shield for the development of both nations.
The energy sector should be the priority for bilateral cooperation, with natural gas cooperation being the cornerstone of bilateral relations, Xi said, adding that greater cooperation on natural gas accords with the strategic and long-term interests of both sides.
Xi also urged the two countries to further explore the potential for cooperation in green energy, natural gas exploitation and technological equipment, and work toward cooperation covering whole industry chains.
Turkmenistan is a key supplier of natural gas to China, with the two nations having developed three gas pipelines in a project known as the China-Central Asia Gas Pipeline. The project supplies natural gas to over 500 million residents in 27 provincial-level regions and the Hong Kong Special Administrative Region, according to Xinhua News Agency.
Berdimuhamedov told a ceremony in June that the construction of a fourth line of the China-Central Asia Gas Pipeline will take the annual transmission capacity to China to 65 billion cubic meters. The current pipeline delivered over 40 billion cubic meters of natural gas in the January-November period last year, according to its operator.
In the joint statement released after the meeting, both nations pledged to ensure the sound implementation of energy deals which have already been signed, expedite further natural gas negotiations and accelerate the implementation of major projects, including a fourth gas pipeline to China.
During their meeting, Xi said the cooperation mechanism between China and the five Central Asian countries is open, transparent, mutually beneficial, equal and pragmatic. China stands ready to work with Turkmenistan to ensure the success of the first summit between China and the five nations, he said.
Xi said China supports constructive cooperation between Turkmenistan and the Shanghai Cooperation Organization, and is willing to make joint efforts in practicing true multilateralism.
Berdimuhamedov hailed the time-honored friendship between the two countries and their high-level mutual trust and cooperation, saying that the ancient Silk Road brought them together.
He said that his country firmly supports China's efforts in safeguarding its national sovereignty and territorial integrity and opposes any attempt to split China.
He expressed readiness to align the Turkmen strategy to revive the Great Silk Road with the Belt and Road Initiative, further boost bilateral trade and economic cooperation and bolster energy cooperation.
Turkmenistan supports the Chinese side in hosting the summit between China and the five central Asian countries to jointly uphold regional security and development, he said.
Berdimuhamedov also met on Friday with Premier Li Keqiang and Li Zhanshu, chairman of the Standing Committee of the National People's Congress, the nation's top legislature.