Other flora and fauna that benefit from the conservation efforts
Share - WeChat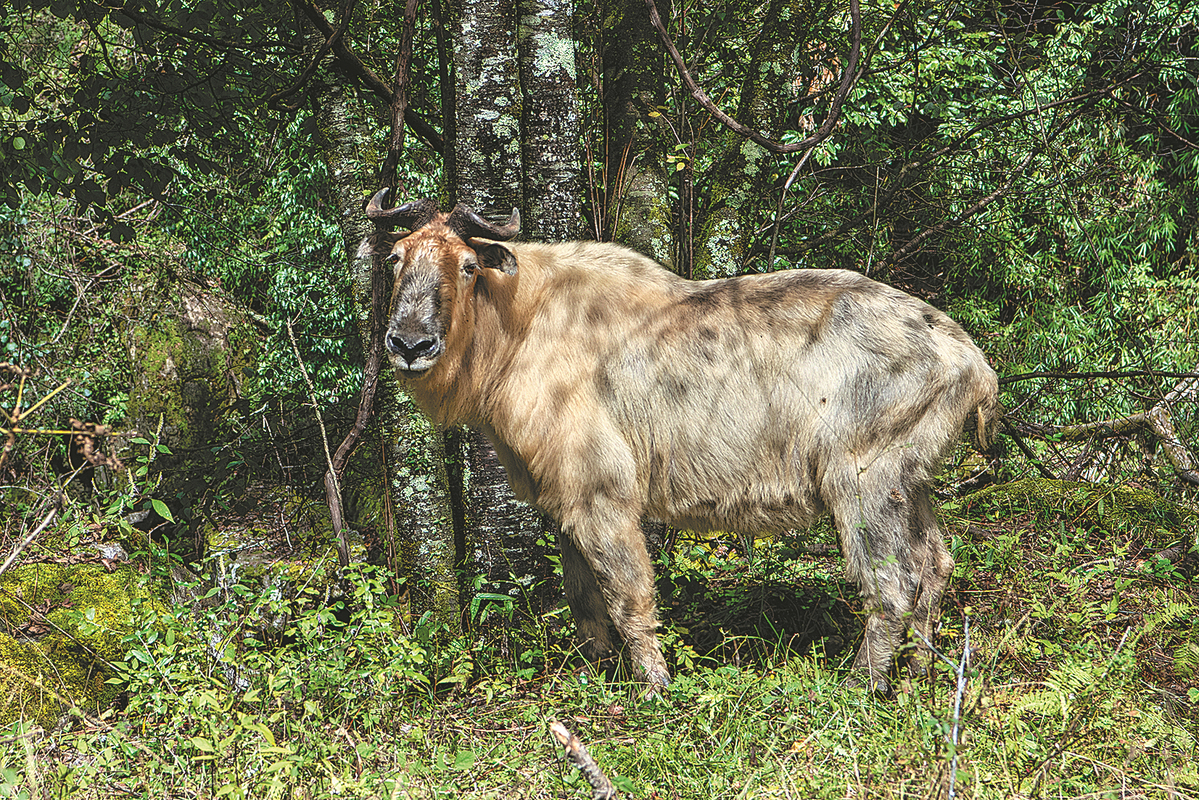 The takin
Also known as the gnu, the takin generally lives in subtropical forests at an altitude of 2,000 to 3,500 meters. However, in summer it feeds in alpine meadows as high as 4,000 meters, while in winter it visits forests as low as 1,000 meters. It eats grasses, bamboo shoots, forbs and the leaves of shrubs and trees. Males can weigh up to 400 kilograms. Both males and females have short horns.
The color of the coat can vary according to the prevailing altitude. In 2008, it was classified as "vulnerable" on the Red List of Threatened Species of the International Union for Conservation of Nature. The latest statistics show that the number in China exceeds 10,000, according to a report on China Central Television, quoting a professor from Northwest University in Xi'an, Shaanxi province.
Tonkin snub-nosed monkey
The Tonkin snub-nosed monkey was classified as "critically endangered" on the IUCN Red List of Threatened Species in 2015. It lives in tropical evergreen forests in Sichuan and Yunnan provinces, Myanmar and Vietnam. It has been recorded at elevations of between 200 and 1,400 meters, feeding on leaves, fruits, flowers and seeds. It has soft fur and an upturned nose. The average adult male stands about 70 centimeters tall, with a tail of equal length. It enjoys a family lifestyle, with members taking care of each other, foraging and playing together.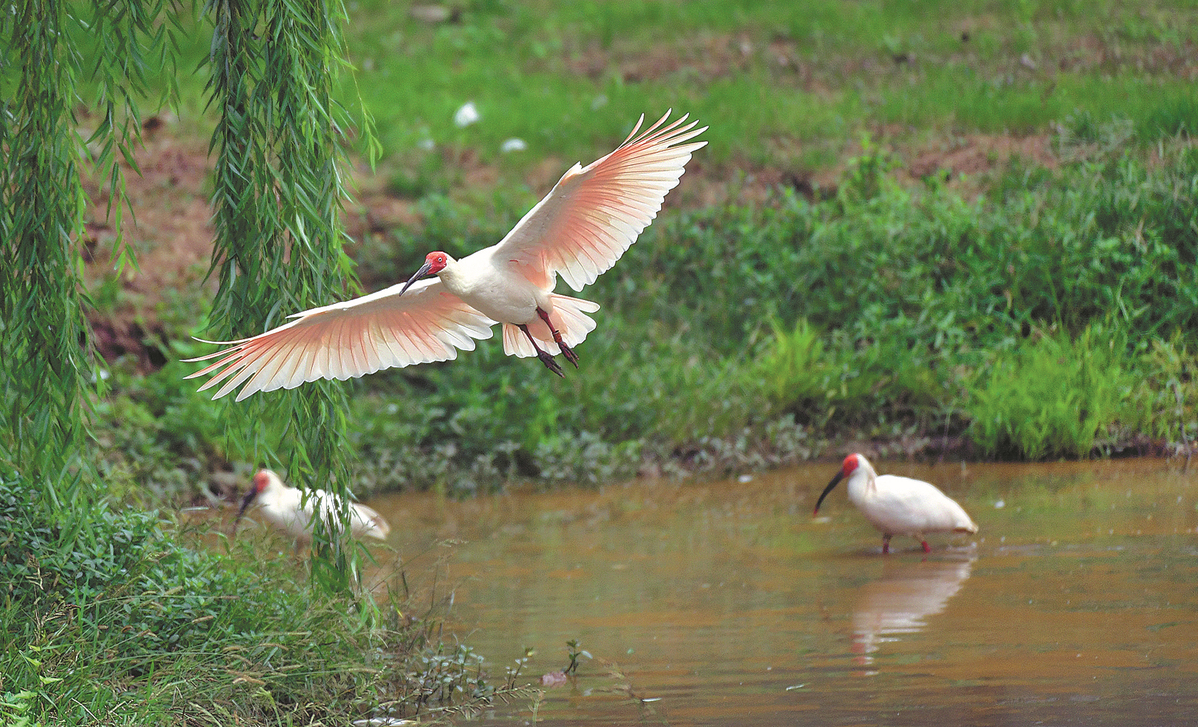 The Asian crested Ibis
The Asian crested Ibis was classified as "endangered" on the IUCN Red List of Threatened Species in 2018. It reaches reproductive maturity at between 2 and 4 years old, and breeds between February and June in wetland areas, building nests in tall trees.
The bird feeds on fish and insects. In winter, it lives in rice fields, river banks and reservoirs.
The species inhabits areas below 700 meters in winter and moves to elevations as high as 1,200 meters during the breeding season.
It was once widely distributed in China, Japan and Russia, but the numbers have declined. Conservation efforts in captivity have seen the global population rise from seven in 1981 to more than 7,000 last year.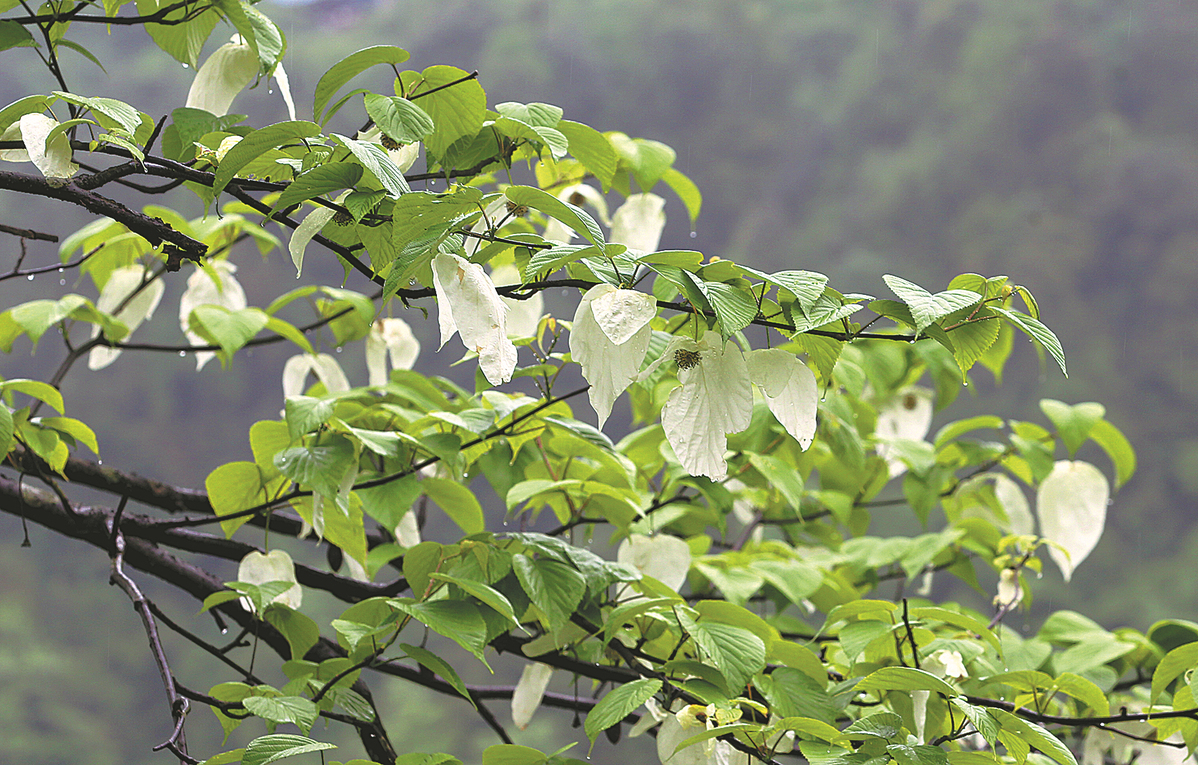 The dove tree
In China, this tree is mainly found in the provinces of Sichuan, Guizhou and Yunnan. It is listed as a national first-class key protected wild plant. Used as an ornamental species, it prefers the moist environment of evergreen broadleaved forests at altitudes of 1,500 to 2,200 meters. The flowers resemble a white pigeon spreading its wings, so it is also known as the "Chinese pigeon tree", while its rarity has seen it dubbed the "giant panda of the plant world".
Sources: International Union for Conservation of Nature; China Science Communication; Xinhua News Agency