Digital yuan to spread its wings
Share - WeChat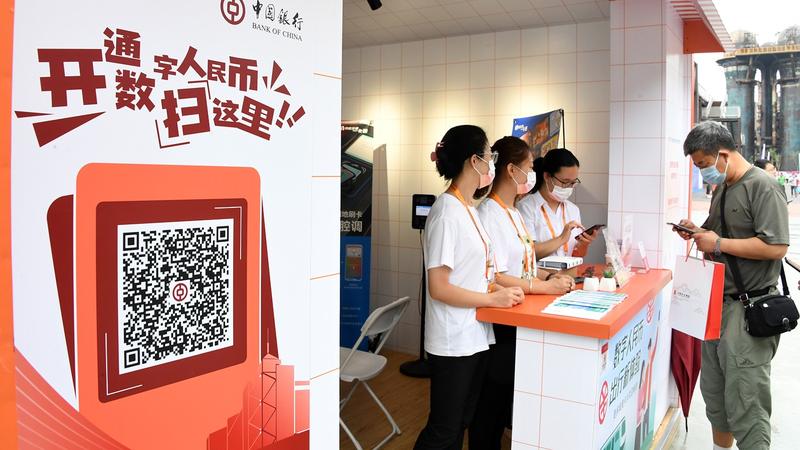 Long way to go
The application of e-CNY in the mainland's clearing house for international transactions - the Cross-Border Interbank Payment System - would bypass the US-dominated payment network SWIFT, which will gradually diversify global settlements, Chan said. Generally speaking, most overseas transactions go through SWIFT - a messaging network covering more than 11,000 banks and financial institutions from more than 200 economies.
"We may see the start of a slow shift toward the yuan. China's willingness to develop a digital yuan could lift the efficiency of yuan-denominated cross-border payments and create new avenues for the country to bypass the global US dollar monetary system," Caudevilla said, "But even with the digital yuan, renminbi will not replace the US currency's dominance immediately."
The PBOC's digital currency research institute and clearing center established a joint venture with SWIFT last year. As of September, the US dollar accounted for about 42 percent of payment instructions transmitted by SWIFT in terms of value, compared with 2.44 percent for renminbi - up from 2.31 percent the previous month - according to SWIFT.
Antonio Fatas, economics professor at INSEAD, said the US dollar still dominates global monetary flows, and its status will remain for quite a long time due to the size of the US economy, its financial markets and its openness to capital flows.
In the second quarter of this year, the greenback accounts for about 60 percent of the world's foreign exchange reserves - well above renminbi's 2.88 percent - according to the International Monetary Fund.
In Hong Kong, the use of digital yuan in retail payments is already faster than that in global trade. In September, the Hong Kong Monetary Authority - the city's de facto central bank- said the e-CNY technical trial had entered its second phase, focusing on the use of the Faster Payment System to top up the e-CNY wallet. The FPS is a payment platform that enables people to transfer money online among various banks.
The number of banks participating in the trial's second phase has since grown from one to four - Bank of China (Hong Kong), HSBC Hong Kong, Standard Chartered Bank Hong Kong and Hang Seng Bank. Their employees and merchants were invited to take part in the process.
Colin Pou Hak-wan, executive director of financial infrastructure at the HKMA, said, "We will invite more e-CNY operating institutions and local banks to join in the test to facilitate the digital yuan's use by Hong Kong residents on the mainland in the future."